Posted Mon Aug 6th by Monty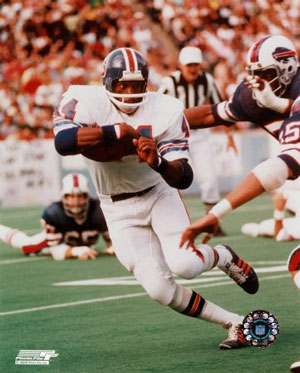 The Broncos only chance for years was #44.
Part 2 of 6
Floyd Douglas Little was born on the Fourth of July in the year 1942 in New Haven, Connecticut. After having a very successful 3-year stint as an All-American at Syracuse, he was the 6th overall selection by the Denver Broncos in 1967. No first round pick had ever signed with the Broncos at this time, where the Broncos were one of the weakest teams in the country. In fact, until the Broncos selected Little, relocation to another town (Chicago, Atlanta, and Burmingham were all rumored) seemed eminent. But Little signed anyway, and the rest, as they say, is history.
When Little hit the field, he literally kept the Broncos in Colorado. His elusiveness, speed, and great hands elevated him to one of the best runningbacks in the game for his time. Consider that the talent around him was meager at best – he had no offensive linemen blocking for him; his quarterback situation was fluid; the defense had yet to make its mark – and his success is all the more remarkable.
Despite this lack of surrounding talent, Little had great success on the field. He was a 2-time AFL All-Star and 3-time NFL Pro Bowler. At only 5-10, 195 lbs., Little truly resembled his surname. He didn't let his small stature interfere with his big play, and he went on the lead the AFC in rushing in 1970. The following year, he led the entire league with 1,133 yards rushing. He complemented this success with 255 yards receiving.
Another great contribution Little made to the Broncos was on special teams – in his career, he added 2,523 yards off kickoff returns to his impressive resume. All told – rushing, receiving, and returns – Floyd Little retired with 12,203 all-purpose yards. He still holds the Broncos record for his 89-yard non-scoring kickoff return.
Little helped Mile High Stadium expand due to repeated sellouts – a tradition that still holds true today, with the waiting list for season tickets being depressingly long. The sellouts kept the Broncos in Denver, giving Little the well-deserved nickname "The Franchise." These ticket sales all happened BEFORE the Broncos ever saw their first winning season in 1973. He truly was the Broncos franchise through its early years.
When Little retired in 1975, he was the 7th all-time leading rusher in league history.
Get Him in the Hall
There really is no explanation behind Little not being in the Pro Football Hall of Fame. There are plenty of examples of exciting, famous running backs in Canton who may not have scorched all of the record books in their careers (look no further than the Bears' Harold "Red" Grange or the Colts' Lenny Moore). These players had championship talent around them, and have long been inducted in the Hall of Fame. In particular, these running backs are recognized in the Hall as much for their influence as their success – they set the stage for players to come.
To really hit this home, I examined the career of long-time Hall of Famer Bobby Mitchell, a halfback/flanker hybrid who played for both the Cleveland Browns and the Washington Redskins in the 1960's. In 14 years in the NFL, Mitchell tallied only 1,875 more all-purpose yards than Floyd Little totalled in 9 years. Again, Mitchell's surrounding talent was much more impressive than Little's, and he utilized this talent to over 90 career touchdowns. "It is little wonder NFL defenders shuddered whenever Bobby got the ball. He was a potential time bomb who almost always went off."
Did Floyd Little not do the same? Little was an exceptional runner and returner who struck fear in the hearts of defenses – hell, he was the only person on the team worth fearing! He made plays all his own, dodging defenders left and right, on his way to 53 touchdowns. I mentioned before that Little retired as the 7th all-time leading rusher in the league – isn't it intersting that 1-6 have all long since been inducted? I tried for over an hour to find the others ranked below Little to no avail – but given the unexplainable bias against Broncos in the Hall of Fame, it wouldn't surprise me to find 8-10 in the Hall as well.
When a player saves a franchise from relocation, leads them to their first winning season after over a decade of failure, holds one of three retired jersey numbers in franchise history, and virtually singlehandedly sells out and expands a stadium, there's no question his influence on the league as a whole warrants a bust in Canton. His records and statistics are consistent with so many already enshrined. I can't fathom why Little isn't already immortalized with a bronze bust. I hope the Senior Committee can do him justice and include his name in the Class of 2008.
For more information on Floyd Little, please visit: