Posted Sun Apr 29th by Monty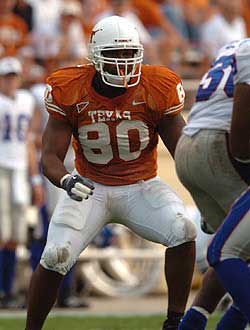 Tim Crowder is now a Denver Bronco. Photo Courtesy
The Broncos made another move to improve their pass rush on Saturday, selecting Texas Defensive End Tim Crowder with the 56th overall selection.
Ht: 6-3.5 Wt: 271
Pos: DE
Class: Senior
40-Time: 4.74
Sacks ('06): 11.5
On Tim Crowder:
Crowder is the second defensive end selected from a recent National Championship team, having started in the BCS Title game in January 2006. He has always been the standard in production, finishing his senior year at Texas with 11.5 sacks and 18 tackles for loss.
While his measurables leave something to be desired (you will see that 1st round selection Jarvis Moss is taller, leaner, and quicker), no one can bash his technique, as he has excellent leverage and knows how to maintain his balance. He is also a solid tackler – less of a liability against the run than Jarvis Moss, although his lack of speed could leave him burned at the pro level.
Gripes on Crowder mainly focus on his speed. While he found ways to be very productive his senior year, he is sometimes reported to take plays off, and if he gets knocked to the ground he is slower to get up than most scouts would like. He had been scouted as a 3-4 defensive end but obviously Shanahan and Jim Bates felt like he could impact this team, so he will be wearing the orange and blue this season, and we couldn't be happier.
An interesting side not: Victor Abiamiri went to the Eagles immediately after we picked, another defensive end. Look forward to comparing these two prospects as their careers flesh out over the years.