Posted Fri Mar 23rd by Monty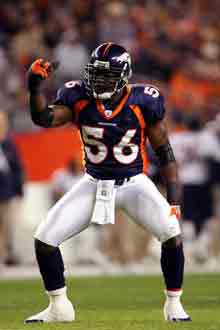 Al Wilson is trade bait.
As the saying goes, where there's smoke there's fire. And a lot of smoke has been blowing around Al Wilson's camp lately, culminating in the latest report that he is being dangled in trade talks with the New York Giants, the Detroit Lions, and the Philadelphia Eagles. Adam Schefter of the NFL Network has reported that a trade could be finalized as soon as today, Friday, with draft picks and NYG DE Justin Tuck likely involved in the trade.
UPDATE: Obviously hindsight is everything.  This piece ran in early 2007, when we were hoping to keep Wilson and certainly weren't interested in Tuck, who had done nothing in the league up to that point.
ARE YOU KIDDING ME?! It was hard enough to lose Trevor Pryce last year, but it was a little more understandable considering his production had seemingly dropped. Wilson was elected to the Pro Bowl just last year, is our defensive captain, and one of the longest-tenured Broncos on the team. He spoke at both funerals for Darrent Williams amd Damien Nash for crying out loud! While Wilson's camp is spinning this the right way, I can't help but have this very sour taste in my mouth over the whole thing.
Our cap situation is mostly to blame, with Wilson due between $5 and $6 million this coming year. Word is that Shanahan has been very impressed with Broncos linebacker D.J. Williams, and has been looking for him to start at middle linebacker. This would let him and veteran Ian Gold start in nickel packages. Reportedly Nate Webster could become more involved, while the Broncos would definitely look in the draft to add depth and perhaps find a quality starter.
CBS4 Denver reports this morning that a deal is not as imminent as immediately believed. While this is a bit of relief for me (I mean, anyone is tradeable for the right price, and initial trade talks are very different from continuing talks), I still think that Wilson has likely played his last game in a Broncos uniform.
And I hate it so so much. We're overspending for aging defensive linemen, and it's costing us our defensive captain. Is Kernard Lang's or Daniel Graham's or Travis Henry's cap room worth the same as Al Wilson's? Absolutely not. If you go through with this, Denver, you're making a huge mistake. If we can't afford to pay Wilson $6 million this year, we sure as hell shouldn't be able to pay Graham $30 million over 6 years.