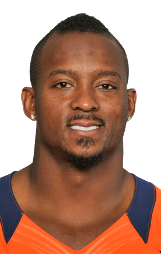 On Wednesday, the Denver Broncos placed running back Willis McGahee on injured reserve, the team announced via Twitter.
Per CBA rules, the Broncos placed McGahee on IR with a designation for return, meaning he may be able to play again this season.  In six weeks from today, McGahee will be allowed to practice with the team again—he will be allowed to play again in eight weeks.
The Broncos have six games left in the regular season, so Denver would have to make it through the second round of the playoffs for McGahee to play again this season.
In McGahee's place, running backs Knowshon Moreno, Lance Ball, rookie Ronnie Hillman, and practice squad player Jeremiah Johnson will fill the void in Denver's backfield. Â On Tuesday, the team also worked free agent Steve Slaton.
This is a tough break for McGahee and the Broncos offense. Â Heal up quickly, Willis.