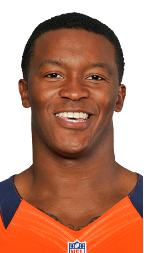 We're starting a new weekly series, Between the Numbers (BTN), evaluating where some of Denver's biggest stars stand in comparison to the rest of the NFL. Today, we'll look at WR Demaryius Thomas.
Thomas is averaging 97.0 receiving yards per game heading into Week 9 of the season, which ranks second in the NFL. Â Here's a look at how the stacks up against the rest of the receivers in the NFL:
WR Demaryius Thomas
Yards
Avg.
Yds/G
TD
Long
1st
20+
Receiving:
679
17.4
97.0
4
71T
24
16
League Rank:
3rd
1st*
2nd
T-4
4th*
T-14
1st
*Excluding WRs with <30 catches
As is evident from Thomas' fantastic standings above, the Broncos offense, namely, the wide receivers, have benefited greatly from the presence of quarterback Peyton Manning.  If Thomas' numbers keep improving, he may be looking at a Pro Bowl season.
What have you thought of Thomas's performance through the season thus far? Has he lived up to your expectations?