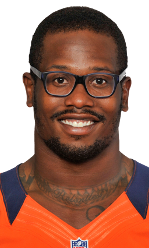 We're starting a new weekly series, Between the Numbers (BTN), evaluating where some of Denver's biggest stars stand in comparison to the rest of the NFL. Today, we'll look at OLB Von Miller.
Miller, who ranks second in the NFL with fourteen tackles for losses this season, is looking to build off of his 2011 Defensive Rookie of the Year campaign. Here's a look at how he stacks up against fellow pass rushers across the league:
OLB Von Miller
Tckls
Sacks
TFL
PDef
FF
Totals:
21
6.0
14
1
1
League Rank:
167th
T-6th
2nd
N/A
N/A
Though Miller does not rank high in tackle and pass coverage stats, he has excelled at his main job: pass rushing.  Miller, frequently moved to defensive end, has made fourteen tackles in the backfield, proving to be effective both against the pass and against the run.
What have you thought of Miller's performance through the season thus far? Has he lived up to your expectations?