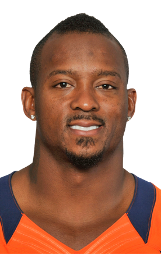 We're starting a new weekly series, Between the Numbers (BTN), evaluating where some of Denver's biggest stars stand in comparison to the rest of the NFL.  Today, we'll look at RB Willis McGahee. 
McGahee is coming off of his 33rd 100-yard rushing performance, which ranks first among active NFL players. Excluding his fumbles, which the Broncos are looking to correct, McGahee's motor has been a reliable option for Denver's offense this season. Here's how he stacks up against fellow NFL backs:
RB Willis McGahee
Yards
Avg.
Yds/G
TD
Long
1st
1st%
Rushing:
554
4.5
79.1
4
31
37
29.0
League Rank:
14th
12th*
9th
T-4
T-22*
2nd
5th*
*Excluding QBs, low-carry RBs
As the numbers show, McGahee's attempts, average, and yards-per-game average rank near the middle of the NFL.  Meanwhile, his number of scores, first downs, and first down percentage numbers rank near the top of the league. The veteran can still be counted on to move the sticks and is Denver's best short-yardage option.
What have you thought of McGahee's performance through the season thus far? Â Has he lived up to your expectations?