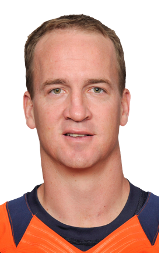 Another week, another award nomination for Denver Broncos QB Peyton Manning.  The league announced on Tuesday that Manning, Tom Brady and Matthew Stafford have been nominated for the FedEx Air Player of the Week award on NFL.com.
Manning was nominated after having gone 22-0f-30 for 305 yards and 3 scores in Denver's 34-14 route of New Orleans.  Brady received recognition after going 23-of-35 for 304 yards and 4 scores in New England's 45-7 route over St. Louis.  Finally, Stafford went 34-0f-49 for 352 yards and 3 scores in Detroit's narrow 28-24 victory over Seattle in Week 8.
Manning is no stranger to weekly awards. Â Peyton has won 22 Player of the Week awards during his career, making that the most received by one player in NFL history. Â Per the team, Manning has been named Player of the Week at least once in his career for every week of the sixteen-game schedule saving Week 1 and Week 5.
Voting is open at NFL.com/FedEx: vote early and vote often!