Posted Tue Oct 30th by Monty
The Denver Broncos routed the New Orleans Saints 34-14 on Sunday Night Football, which means it's time for the BT Staff to give out Game Balls!!! Who ya got fellas?
Wesley Woodyard

There's a lot of talk about D.J. Williams right now, with a lot of people ready to give him the axe and some other folks (like me) who think he deserves one more shot. Here's the thing. Whatever happens with D.J., one thing that he absolutely should not do is replace Woodyard. He is hungry, he is talented, and he is a workhorse. Whatever happens to D.J., Woodyard is currently the best linebacker we have out there, and he deserves a permanent starting role so long as he continues to play at the level he is currently playing.
First, let's just talk about his stats. Nine solo tackles, four assists, one pick, one sack, one pass defensd, and one fumble forced (which, sadly, the Saints recovered). He was everywhere on the field and he led the team both statistically and in fact. He played smart, he played fast, and he played hard. He covered ends and backs, he blitzed, and he stuffed the run. The closest other defensive player to him, statistically, was Champ Bailey — who Brees was not afraid to challenge, which must have been quite a treat for him — with six tackles. The pick came on a fourth down stop when the game was tied, and was a critical play that helped the Broncos take a commanding lead that they never gave up.
The Broncos defense played a stunning lights out game against one of the most prolific offenses in the league, and Wesley Woodyard is one of the key reasons that team is playing so well. — E. Halsey Miles
Peyton Manning

With a four-times surgically repaired neck, who would have imagined it would be Peyton Manning's thumb that would have everyone in Denver first holding their breath over their prized free agent quarterback? Manning overcame a bloody thumb-to-the-helmet to throw for over 300 yards and three touchdowns Sunday, and he continued to set records in the process.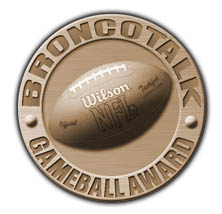 Manning, who finished 22-of-30 without an interception for a 138.9 rating, became just the second player in NFL history (Steve Young, 1998) to record at least 300 yards passing and three touchdowns in four consecutive games. We're almost getting complacent to greatness from Manning, but I'm not going to let that affect my ability to give him a game ball. — Monty
Demaryius Thomas

I think the Josh McDaniels hate can officially come to end. It's been two years and he did draft Demaryius Thomas. All can be forgiven. Thomas is now one of the biggest threats in the entire league. He consistently gets open and with a quarterback who sees all, he is consistently getting the ball for some huge gains. With one more game to go until the halfway point in the season, Thomas has 39 catches for 679 yards and 4 touchdowns. That is a whooping 17.4 yards per catch and as we all have seen, most of those yards are coming after he has the ball in his hands. Brandon Marshall who?
Last season, Demaryius Thomas seemed to get stronger late in the season, so we could be in for a real treat against the inferior teams the Broncos face down the stretch. I do believe the venerable Rod Smith was the last Broncos wide receiver to top 1600 yards receiving in single season, but that mark might be topped by the Broncos emerging star. — Tim Lynch
Broncos' Backfield


Take away his fumble and Willis McGahee had one of the guttiest performances of his Broncos career. Totalling 155 yards from scrimmage and scoring the team's first touchdown, McGahee consistently got the Broncos tough yardage when they needed it. How about taking a fullback dive play and running over a linebacker to get a first down? That's something the Broncos backfield hasn't had in recent years, a tough running back that can punch it in from short distance. Last night, McGahee was phenomenal.
And the rookie, he's the real deal. When McGahee got dinged up in the first half, Ronnie Hillman got his most extensive action of the season thus far. Even with McGahee back in the game, the Broncos continued to work the explosive Hillman into the offense, feeding him a career-high fourteen carries, which he turned into 86 yards (just over six yards a carry). Hillman showed a lot of promise last night and McGahee, save his fumble–he needs to work on ball security, was reliable in crunch time.
Both running backs get Game Balls from me this week. As do the offensive line (but somebody else can award the o-line, particularly Ryan Clady, who was incredible, hint, hint). – Jon Heath
Derek Wolfe

Derek Wolfe was drafted for his relentlessness, and it's about time we honored that aspect of this rookie's play with a game ball. Wolfe didn't have a huge impact on the stat sheet — he notched two tackles — but that doesn't tell the tale of how Wolfe was consistently in Drew Brees' face, all game. In my opinion, one Brees fumble should be attributed to Wolfe, as he pushed a Saints blocker into Brees' throwing motion, causing Brees to lose the ball. The rookie has proved to be the third pass rush threat on the Broncos defense. — Monty
Mitch Unrein

A defensive tackle playing fullback to launch Willis McGahee into the end zone? That gets a game ball. — Monty
Broncos coaches
A total team win deserves a total team Game Ball. The Broncos held the Saints to 0 of 5 on third downs in the first half. The offense outgained the Saints by nearly 300 yards. On a night when John Fox earned his 200th win in the NFL as an NFL coach (assistant positions included), he clearly had his men prepared. — Monty