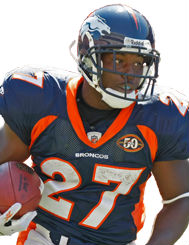 Due to Hurricane Sandy, the NFL announced on Monday that the Week 8 trading deadline will be moved from its originally scheduled Tuesday time frame to 4 p.m. ET on Thursday, Nov. 1.  The hurricane has caused several East Coast teams—and the NFL's New York-based league offices—to cancel Monday operations, which would make a Tuesday deadline tricky for a handful of teams.
Per NFL.com, among the players rumored to be mentioned in trade talks this week are Rams running back Steven Jackson, Panthers running back DeAngelo Williams, and Buccaneers running back LeGarrette Blount. Â The Denver Broncos may consider adding fourth-year running back Knowshon Moreno to that list.
Moreno, a former first round draft selection, was inherited by the Broncos' current coaching staff and has battled injuries and lack of production his entire career. Â Inactive the past five weeks, Moreno's chances of seeing the field this season, barring an injury, seem to be slim to none.
With that being the case, the Broncos may seek teams interested in the twenty-five year old, 5′-11″, 200 hundred pound running back.  Owed $1.7 million in 2013 with a club option of retention in 2014, the Broncos have little reason to keep paying Moreno through 2013 in exchange for not dressing on game days.
Finding a trading partner could potentially be tricky for the Broncos, but a handful of teams would likely offer a mid-to-late round conditional draft pick in exchange for Moreno. Â Do you think Denver should test the waters and place Moreno on the trading block? Â Dish out your thoughts in the comments below!