As Week 8 of the NFL season approaches, the Denver Broncos (3-3) are preparing to face the New Orleans Saints (2-4) in Denver, Colorado.  Here are five notes for your consideration going into the game —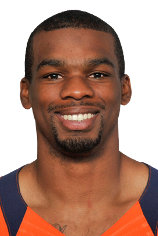 (1) Cornerback Tracy Porter unofficially ruled out for mid-season showdown.
Our thoughts and prayers are with cornerback Tracy Porter, who has been experiencing medical issues.  Per the team —
Prior to the team's Week 6 game in San Diego, he experienced symptoms similar to those he felt in August when had what was diagnosed by the team's medical staff as a seizure. He stayed behind in Denver and was held out of the game.
Porter practiced on a limited basis on Thursday and Friday and is officially listed as "questionable" on Denver's injury report. Â It appears more likely however that Porter will not suit up for the game. Â While waiting to be cleared to play again by the Broncos' medical staff, Porter recently thanked fans via Twitter for their words of encouragement.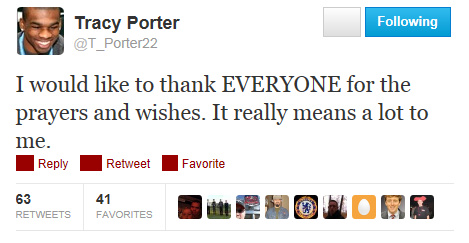 Reports that the team was/is considering trading Porter were unfounded and false. Â The team is evaluating his health situation with Porter's best interest in mind.
(2) It could be a cold game this weekend.
Per AccuWeather, there's a chance of morning snow this morning with a low of 38° on Sunday (RealFeel® 33°) and a high of 57°.  In his career, quarterback Peyton Manning has gone 292-of-453 (64.5%) for 3,553 yards and 23 scores against 14 interceptions when playing in games 40° and below.
(3) Manning vs. Brees a classic QB showdown. 
It doesn't have the appeal of Manning vs. Brady, but Manning vs. Brees has some historic background as well, per SI's Peter King —
Drew Brees-Peyton Manning V, Sunday night in Denver … certainly a place neither man ever thought they'd meet for maybe the last time of professional careers likely to end, for both, in Canton.

The personal series is tied at two. Manning beat Brees, the Charger, in 2004, and then Brees walked into the RCA Dome in his third-to-last game as a Charger, when the Colts were 13-0 in 2005 … and beat the mistake-prone Manning 26-17. The Colts waxed the defenseless Saints 41-10 on opening day 2007. And, of course, their last meeting: the Super Bowl three seasons ago. Saints up by seven, fourth quarter, Colts driving inexorably to tie, Manning throws and Tracy Porter steps in front of Reggie Wayne for the pick heard round the world. Super Bowl MVP Brees was 32-of-39 that day. […]

[…] That Brees and Peyton will meet for perhaps the last time is a matter of schedule (because AFC teams meet NFC teams once every four years) and age (Brees is 33 and Manning 36). So this is not only for playoff relevance — the Saints are trying to battle back in the NFC playoff race at 2-4, winners of two in a row, and the Broncos, 3-3 and coming off their bye — but it's for the personal championship in the best-of-five playoff series between two great Super Bowl winners.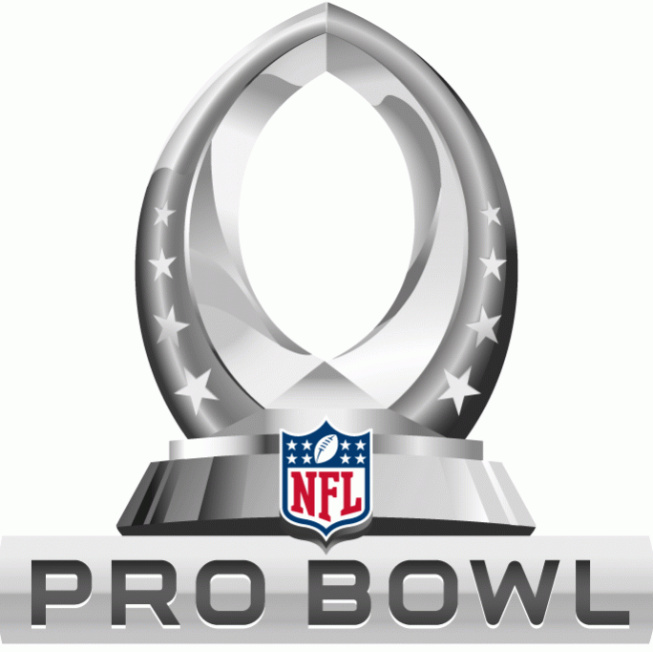 (5) Pro Bowl voting is now open — Manning, Miller top Broncos candidates.
Fan voting for the 2013 NFL All-Star Game is now open on NFL.com. Â Seven Denver Broncos, most notably, quarterback Peyton Manning and outside linebacker Von Miller, appear poised to emerge as Pro Bowl candidates. Â Miller, who made the trip to Hawaii following his Defensive Rookie of the Year campaign, is on pace to record 16 sacks this season. Â Meanwhile, Manning is on an historic stretch:
Over the past three weeks, Manning has thrown for 300+ yards, three touchdowns and completed 70% of his attempts, marking the first time in NFL history a quarterback has accomplished all three feats in three consecutive games.  Undoubtedly, Peyton Manning is back.
The 2013 Pro Bowl will be played on Jan. 27, 2013 and televised live on NBC at 5 p.m. (MST).  The Broncos were represented by six players in Hawaii last time around and have twenty-seven players on the ballot this year.  Be sure to vote early and often!
(6) Miscellaneous game notes.
Denver's showdown with New Orleans on NBC's Sunday Night Football will mark the 13th consecutive week dating to last season that the team will have their game broadcast by a TV network's No. 1 crew.  Al Michaels (play-by-play) and Cris Collinsworth (color commentary) will call the game with Michele Tafoya reporting from the sidelines.
The Broncos and Saints have faced off nine times, with the Broncos owning a 7-2 record in those games. Â Kickoff is scheduled for 6:20 p.m. (MT).
Check back tomorrow night as we cover the game via LiveBlog, Facebook, and Twitter. Â See you at kickoff!