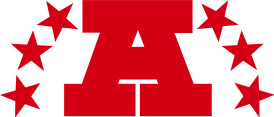 As Week 5 of the NFL season approaches, the Denver Broncos (2-3) are preparing to face the San Diego Chargers (3-2) on the road.  Here are five notes for your consideration going into the game — 
(1) Is Von Miller a Defensive Player of the Year candidate?
Coming off his Defensive Rookie of the Year campaign, is second-year outside linebacker Von Miller a 2012 Defensive Player of the Year candidate?
Yes, in the eyes of ProFootballFocus. Â Through the first five weeks of the season, Miller has led the NFL with twelve tackles for loss and is tied for having recorded the fourth-most sacks (5.0). Â On Sunday, Miller's seven tackle, two sack, and forced fumble performance earned him a phenomenal +12.3 rating from PFF.
Through his first twenty games, Miller has recorded 16.5 sacks, a higher total than Dallas' DeMarcus Ware (10.0), Minnesota's Jared Allen (16.0) and Houston's J.J. Watt (13.0) recorded in their respective first twenty games. Meanwhile, seventh-year defensive end Elvis Dumervil has recorded three sacks and two forced fumbles. Â According to Stats Inc., Dumervil is also tied for third in the NFL with 14.5 QB hurries and 9.5 knockdowns. Consequently, San Diego quarterback Philip Rivers will have fun running away from Gloom and Doom on Sunday.
(2) Steve Atwater is headed to the Colorado Sports Hall of Fame.
Former Broncos safety Steve Atwater, who was among seven former Broncos nominated for the 2013 Pro Football Hall of Fame class earlier this year, will be inducted into the Colorado Sports Hall of Fame this April.  Per the team — 
Atwater, the 20th player to be inducted into the Broncos Ring of Fame in 2005, was a first-round pick in the 1989 NFL Draft. He was voted to a franchise-record tying seven consecutive Pro Bowls, and his eight total Pro Bowl selections are the second most by a player in Broncos history.

During his 10-year career with the team, he started all 155 regular-season games, recording 24 interceptions and serving as a key leader in the club's back-to-back Super Bowl titles.
Congratulations to Atwater, who was one of the great ones.  It's a shame that the Hall of Fame voters are so hard on safeties, because Atwater, John Lynch, and Brian Dawkins were all forces to be reckoned with in their respective playing days.
(3) Demaryius Thomas has been carrying a football everywhere he goes.

Third-year receiver Demaryius Thomas has been trying to overcome his fumbling problem this week, carrying a football tight to his body everywhere he goes.
"I've got to treat [these footballs] like the precious things that they are," Thomas told the Denver Post. Â "I have to tuck it before I go downfield. I've never had a problem fumbling the ball before. This is the first time I've had two games in a row fumbling."
Kudos to Thomas for making the effort to correct his faults. Â Let's hope it works.
(4) The NFL must be loving Manning Time and Denver's TV ratings.
Since Labor Day, nine NFL games have ranked among the top ten most-watched shows this fall. Â Among the top four most-watched programs are three games involving the Denver Broncos. Â List below: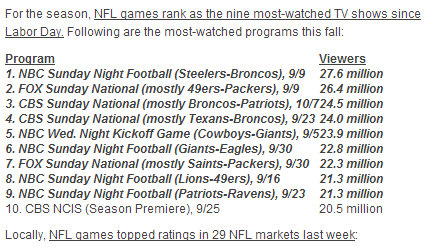 (5) AFC West's top dogs to face off on Monday Night Football this week.

The Denver Broncos and San Diego Chargers have combined to win the AFC West in seven of the past eight seasons (with San Diego winning a majority of those titles), Â and have remained the two top teams in the division for several years. Â This season appears to be no different, with San Diego standing atop the division at 3-2 and Denver sitting second overall with a 2-3 record.
Monday will mark 105th time the two teams have faced off, with the Broncos owning a 55-48-1 record in those meetings. Â The game will also be the first time former Denver receiver Eddie Royal has played against the Broncos.
The game will be nationally televised (map) and Mike Tirico (play-by-play) and Jon Gruden (color commentary) will call the game for ESPN.  Kickoff is scheduled for 6:30 p.m. (MT).
Join us on game day as we cover the game on the blog, Facebook, and Twitter.  See you at kickoff!