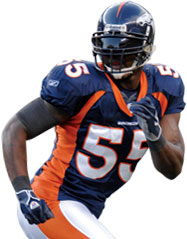 The NFL informed the Denver Broncos on Friday that linebacker D.J. Williams will be suspended an additional three games to his current six-game suspension, according to CBSSports.com. Â The two suspensions, lasting nine weeks total, were the result of performance enhancing drug and driving while ability-impaired charges.
Williams (6-1, 242 lbs.) is a ninth-year veteran who has been a starter in Denver since he was drafted by the team in the first round of the 2004 NFL Draft. Â Williams will be cleared again to play in Week 11, when the Broncos are scheduled to take on the San Diego Chargers at home.
In Williams'Â absence, Keith Brooking and Wesley Woodyard have been rotating at the "Will" linebacker position. Â With middle linebacker Joe Mays coming back from his own suspension this week, Von Miller, Mays, and Brooking will likely be the three starting linebackers in Denver's 4-3 defense, with Woodyard rotating in on nickel and dime formations.
The Broncos defensive unit as a whole has not suffered greatly from Williams'Â absence, but the team's linebacker depth has been depleted. Â When Williams returns from his suspension, expect him to return to the team's starting lineup.