For those who live outside of Colorado and do not have DirecTV, we present this handy-dandy broadcast map, courtesy of the506.com: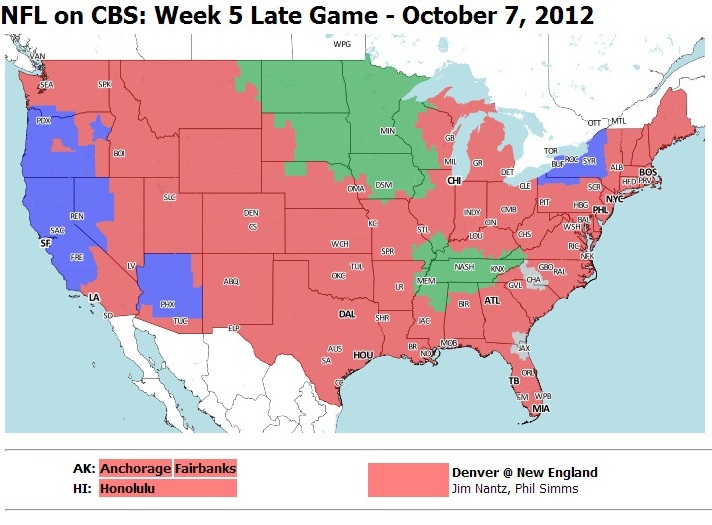 Those of you who live in the red areas (including Alaska and Hawaii) will receive the Broncos/Patriots game on your local CBS station this weekend. Â Kickoff is scheduled for 2:25 p.m. (MT) and we'll have complete coverage of the game here on the blog, on Facebook, and on Twitter.
For those who do not live in the red, you have several options, which we have listed below for your convenience — 
Panic. Â Pros: Releases built up stress and gives you an excuse to throw things. Â Cons: Â Accomplishes little and does not allow you to watch the game.
Get NFL Sunday Ticket. Pros: Watch every Broncos game every week, no matter where you live. Cons: $$$
Go to a sports bar. Pros: You can watch the game with your friends while enjoying food/refreshments. Cons: Does not include the comforts of home.
Go to the game. Pros: Â Experience the game live and in person! Â Cons: $$$
Watch the game online. Pros: With NFL Game Rewind, you can watch every game. Cons: NFLGR Â does not allow you to watch games live and watching games streamed live online elsewhere is actually illegal.
Are you getting the game on CBS this week? Â Let us know in the comments how you watch the games; we're especially interested to know how our readers across the pond are able to catch the games.