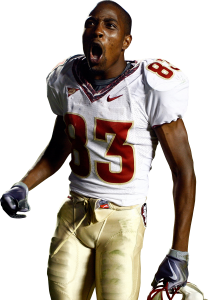 The Denver Broncos on Tuesday announced the signings of three players to the team's practice squad.  Linebacker Mike Mohamed, wide receiver Bert Reed and offensive tackle Darrion Weems have all signed with the team.
Terms of the player's respective contracts are unknown, but they'll likely receive $5,700 a week, the league's minimum salary for practice squad players, per CBA rules.  The team also announced the waiving of guard Adam Grant from the practice squad.
Reed (5-10, 180 lbs., pictured) is a rookie wide receiver from Florida State University who entered the league as a college free agent with the Cleveland Browns.  After spending short stints with the Browns and Tampa Bay Buccaneers, Reed is now joining his third pro team, the Broncos, after being in the NFL for just six months.
Denver's newest WR, @speedreed83, finished his FSU career ranked 4th in school history in receptions (170) & 12th in receiving yds (2,022).

— Jon Heath (@Jon_BT) October 2, 2012
Reed has the potential to be activated in the right scenario, and may see the field at some point this season.
Mohamed (6-3, 245 lbs.) is a second-year player who was drafted by the team in the sixth round (189th overall) of the 2011 NFL Draft.  A University of California product, Mohamed spent much of his rookie season on the practice squad and was active last week against the Oakland Raiders.  Mohamed seems to be the team's emergency outlet at linebacker.
Weems (6-5, 320 lbs.) is a rookie offensive tackle who joined the league as a college free agent with the Minnesota Vikings. Â Having spent time with the Vikings, Patriots, and Colts, Weems was a fourteen-game starter for the Oregon Ducks in 2011. Â He'll provide the Broncos with offensive line depth on the practice squad.
All three players seem to be solid additions to the practice unit. Â With Grant's release, the team's practice squad is now full with eight players.