Posted Fri Aug 10th by Monty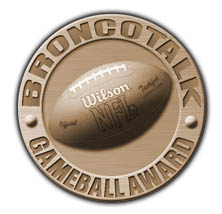 Broncos 31, Bears 3 — as if this offseason wasn't exciting enough, the Broncos have to go and completely destroy their first preseason opponent. We, as fans, can either try to stay level-headed… or go completely nuts. I'm aiming for the former personally, but man, it's hard. The Broncos looked ggoooooodd last night.
Gentlemen, you know the drill! For five years now, a Broncos victory means we at BroncoTalk give out Game Balls. Who ya got?!
Ian Henson —

Defensive- I am going to go after some more out-of-the-box type guys, rookies Derek Wolfe and Malik Jackson both stood out. However, I really liked what I saw from Nate Irving who saw time on pretty much every team (1st, 2nd, 3rd) and did well at all levels. Twice he stuffed a runner behind the line of scrimmage; he looked like the middle linebacker that Denver was hoping for him to be when they drafted him last season.
Honorable mention: Omar Bolden.
Offensive- There were some good ones, I can't get past running back Xavier Omon though. The guy could just scoot and showed a lot of what those of us who were lucky enough to see him in training camp got to see. I don't believe that he has any more practice squad eligibility, so he is one of many, many tough decisions the Broncos staff will have to make here in a couple of weeks.
Honorable mention: Brock Osweiler, Adam Weber and Jacob Tamme.
Josh Temple —

Matt Willis was the star of the 2nd offense last night. Looked like he should be pushing Stokley or any other starting receiver in certain packages. He continues to grow as a depth receiver in the Broncos' system but stood out above everyone else. Showed his great athleticism and sure hands. Keep waiting for this kid to get his chance to really crack the starting squad.
Mike Mohamed finally showed up since being drafted last year. Not sure if this is a product of Jack Del Rio's defense or an anomaly but the guys were doing a great job of sure tackling, especially at the second level. Mohamed was the best example of this. All three of his tackles were open field textbook examples of wrapping up and shutting down your opposition. It's nice to see someone other than Champ Bailey and Chris Harris demonstrating this.
Jon Heath —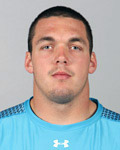 First Game Ball goes to rookie defensive lineman Derek Wolfe. When the Broncos drafted Wolfe in April a lot of the scouting reports I read noted his "relentless motor," and praised him for not taking plays off.
Wolfe did not disappoint last night, notching three tackles and two sacks—giving fans great reason for optimism about Denver's pass rush this season. With Von Miller and Elvis Dumervil coming off the edges, Wolfe appears more than capable of cleaning things up through the middle (and off the edge, when he plays at DE).
Second Game Ball goes to Defensive Coordinator Jack Del Rio. If last night was any indication of what Denver's defense will look like this season, then the Orange Crush has certainly returned.
The defense swarmed to the ball and made plays (two fumble recoveries and an interception) while holding the Bears to 0-of-11 on third down attempts. Granted, Jay Cutler and Matt Forte were not in the game, but the defensive unit as a whole had great tackling form (shout out to Tracy Porter and Nate Irving) and had a relentless desere to get to the football. I attribute that get-to-the-ball-at-all-cost-and-make-plays-when-you-get-there attitude to Del Rio.
Monty —

My first game ball goes to the first team offensive line. Those boys did an excellent job keeping Peyton Manning's jersey clean, often giving Manning four or more seconds in the pocket. The interior was particularly strong — Zane Beadles, J.D. Walton and Manny Ramirez formed an inpenetrable pocket for Mr. Manning, and I saw Ramirez utterly destroy his opponent on one Willis McGahee run. Offensive tackle Ryan Clady was happy to take that holding penalty, but he also told Yahoo! Sports that it was an "[expletive] call…. Terrible call. Please quote me." He'll likely face a fine for that comment, but he won't be facing the ire of all of Broncos Country for putting Manning in danger.
My next game ball goes to Brock Osweiler. The guy looked smooth and confident out there, surprisingly so for a rookie. I expected the accuracy and strong arm to be a little less impressive against a pass rush in a "real" game, but Osweiler stepped up and looked pretty good. Better than Caleb Hanie, anyway…
Who gets your Game Ball, Broncos fans? Dish it out in the comments.