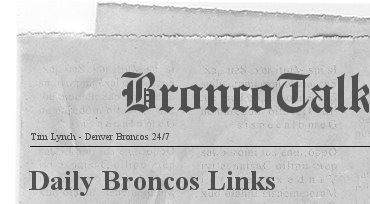 Be sure to follow me on Twitter for more Broncos updates throughout the day.
Denver Broncos News
Broncos at Bears: Preseason Preview | BroncoTalk
Peyton Manning will take his first snap against a pass rush in over 19 months and his first with the Denver Broncos as the Broncos face the Chicago Bears in each team's 2012 preseason opener.
Bring On The Bears | DenverBroncos.com
The Broncos finally get to battle another team Thursday night, while Peyton Manning makes his debut for Denver.
Broncos' Peyton Manning again displays penchant for preparation | Denver Post
By now, we've heard story after story about Peyton Manning's extensive preparations. Wednesday provided another example as the team practiced its pre-game routine, including in which order players will jog onto the field, where they will line up for stretching and where they will gather for the pre-game huddle.
Broncos have to get timing down pat | CBS Sports
At times during the Broncos' training camp, Peyton Manning and his new wide receivers look as though they've worked together for years. At others, they look exactly like they are — a group that, with the exception of Brandon Stokley, is new to the 15-year veteran.

Broncos go through final preparations for preseason opener at Chicago | Denver Post
Breaking news from Broncos camp. Asked about his quarterback situation after Wednesday's practice, coach John Fox revealed, "We're pretty clear-cut at No. 1."
Lights, camera … time for game action for Broncos' Peyton Manning | Denver Post
Peyton Manning must be an other-worldly quarterback. He will lead the Broncos into their first preseason game Thursday night younger than he was a week ago.
Broncos to test middlemen on both offense, defense in preseason opener | Denver Post
What a radical difference a year makes. A year ago, the Broncos emerged from the NFL lockout having tried to trade quarterback Kyle Orton. They failed.
Chiefs hope for better from Baldwin; Chargers seek same from Brown | Denver Post
The Broncos are fully embroiled in training camp, with all things Dove Valley grabbing headlines. But their AFC brethren have rolled up their sleeves as well.
Denver Broncos Blogs
Training Camp 2012: Day 14 | DenverBroncos.com
The Broncos practiced one last time on Wednesday morning before heading off to Chicago for their first preseason game. The players were in shorts, jerseys and helmets – no pads, and did a fast-paced walkthrough in several different packages and situations.
Red Miller likes what he sees from Broncos | First & Orange
From his front-row seat in the VIP tent at Dove Valley, former Broncos coach Red Miller got an up-close look at the Broncos Wednesday morning as the team went through its final preparations for its preseason opener.
John Elway, Denver Broncos Bring Back Fans and Alumni | Rant Sports
John Elway was hired primarily to bring winning back to the Denver Broncos, but he also wanted to reconnect with the fans and bring back the alumni. The Broncos have a proud history that includes a unique relationship with their fans and many great players who are now alumni.
What to look for in Manning's Denver debut | ESPN
Peyton Manning will play his first NFL game in 19 months Thursday when he makes his Denver Broncos' debut in the preseason opener at Chicago.
Denver Broncos Defense Should Get Good Test Against Chicago Bears | Yahoo!
While the entirety of Denver Broncos nation (and every sports media outlet on this continent) will be focused on how Peyton Manning performs Thursday night when the Denver Broncos take on the Chicago Bears in their pre-season opener, I will be paying attention to other things that I think are equally important.
Report Card Grades for Every Denver Broncos Rookie so Far in Camp | Bleacher Report
The Broncos made seven draft selections on draft day this past April. They traded away their first-round draft pick for a lower pick in the draft and selected DT Derek Wolfe with their first selection early on in the second round to finally address the lack of talent in the interior of the defensive line.
Broncos' Brock Osweiler Soaking Up Reps Now | Predominantly Orange
Even though Brock Osweiler is the biggest quarterback on the field at 6'7″, he's obviously not the one people look at first. That's a huge change for a guy who threw for 5,082 yards and 33 touchdowns at Arizona State.
Denver Broncos Videos
Training Camp Day 14: Fox | DenverBroncos.com
Head Coach John Fox talks about heading to Chicago for the preseason opener against the Bears.