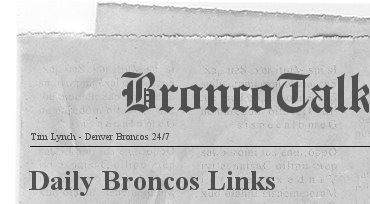 Be sure to follow me on Twitter for more Broncos updates throughout the day.
Returning The Favor | DenverBroncos.com
Ben Garland's teammates and the Air Force Academy come together to help replace items lost in the Waldo Canyon Fire.
For Peyton Manning and Broncos receivers timing is everything | Denver Post
When the eyes have it, that's when the Broncos' offense will be all it can be. Yes, when what isn't said is just as important as what is — when a look, a nod, just before the snap turns into a touchdown.
Two-minute drill doesn't go as Manning wanted | CBS Sports
If Broncos QB Peyton Manning can marshal a drive during Thursday night's preseason opener at Chicago, he hopes it turns out better than the two-minute drill did at Tuesday's practice.
Broncos Training Camp Practice Report: Day 11 | Max Denver
Brock Osweiler's fortunes on the practice field will rise and fall, sometimes precipitously, sometimes within the span of two plays. He knows this; it's part and parcel of being a rookie quarterback.

Denver Broncos surprise Ben Garland after wildfire claims home | NFL.com
Several of Ben Garland's Denver Broncos teammates gathered around him after practice Tuesday and gave him two silver sabers to replace those he received upon graduating from the Air Force Academy, along with a Falcons football helmet.
Denver Broncos QB Brock Osweiler not worried about depth chart | Denver Post
The Broncos' first depth chart, which listed him third, matters so little to rookie quarterback Brock Osweiler that it took him more than a day to know it existed.
Broncos' defensive adjustments date to 2011 game vs. Chicago Bears | Denver Post
It likely won't be an issue Thursday night in Chicago when the Broncos play their preseason opener against the Bears.
Peyton Manning-led Broncos unlikely to be running an option offense | Denver Post
When John Fox was coaching the Panthers in 2006, quarterback Jake Delhomme was injured and backup Chris Weinke was struggling.
Broncos likely to get Peyton Manning 10-12 plays in preseason vs. Bears | Denver Post
For their final full practice prior to their first preseason game of the 2012 season, the third- and fourth-stringers got almost as many reps Tuesday as Peyton Manning and the first-teamers.
Ex-Broncos running back Travis Henry reinstated by NFL commish Goodell | Denver Post
On Monday, the same day the Broncos placed running back Mario Fannin on the waived injured list, NFL commissioner Roger Goodell announced former Broncos running back and Peyton Manning college teammate Travis Henry had been reinstated from his indefinite suspension.
The Wait is Over | DenverBroncos.com
After months of anticipation, quarterback Peyton Manning's first game as a Denver Bronco is just a day away.
Stepping Up for a Teammate | DenverBroncos.com
On Tuesday, several of Ben Garland's teammates banded together to help replace some invaluable possessions that were lost in the Waldo Canyon wildfire that claimed his grandparents' house.
Training Camp 2012: Day 13 | DenverBroncos.com
With just two days until their first preseason game, the Broncos took to the practice fields at Dove Valley in full pads once again. Below is a recap of the session.
Can you name the other players left from the 1998 draft? | First & Orange
The Broncos' signing of Keith Brooking this week, the team now has two of the 10 players left from the 1998 draft class. The other, of course, is quarterback Peyton Manning, the No. 1 pick in that draft. Brooking was selected at No. 12.
Scenes from a Practice: Training Camp Day 11 | Max Denver
Check out images from the Broncos' 11th practice of 2012 training camp.
Broncos step up to replace DE Ben Garland's Air Force treasures lost to wildfire | CBS Sports
Ben Garland's grandparents, Hal and Sharon Garland, are understandably proud of their grandson, who in the last three years has graduated from the U.S. Air Force Academy, become a commissioned officer and now a Denver Bronco battling for a roster spot at defensive tackle.
No charges filed against DE Elvis Dumervil | CBS Sports
No charges will be filed against DE Elvis Dumervil in the July 14 incident that resulted in his arrest on suspicion of aggravated assault with a deadly weapon in Miami.
Denver Broncos Need Keith Brooking's Crazy Intensity | Yahoo!
When I heard that the Denver Broncos had signed veteran linebacker Keith Brooking on Monday, my initial reaction was surprise that the man hadn't already retired. The last I had heard he had finished his three-year contract with the Dallas Cowboys and hadn't been re-signed.
Peyton Manning Not Getting Extra Reps In First Preseason Game | Predominantly Orange
The Denver Broncos go under the big lights Thursday night in Chicago when they take on the Bears in preseason game No. 1. As for how much playing time players will get, John Fox isn't disclosing much other than what we already figure.
Statement From Elvis Dumervil | DenverBroncos.com
Elvis Dumervil addressed the press following the announcement that charges would not be filed against him.
Training Camp Day 13: Manning | DenverBroncos.com
Quarterback Peyton Manning talks about preparing for his first preseason game as a Bronco.
Brooking Signed, Hanie Eager | DenverBroncos.com
Veteran linebacker Keith Brooking talks about joining the Broncos while QB Caleb Hanie prepares to face his former team.