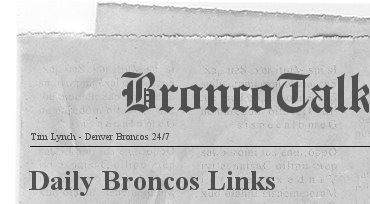 Be sure to follow me on Twitter for more Broncos updates throughout the day.
Denver Broncos News
One Step Closer | DenverBroncos.com
Saturday's scrimmage at SAFAMH was welcomed by fans with open arms, and the speed on the field means games that matter are getting close.
Broncos Magazine: 2012 Yearbook Edition | DenverBroncos.com
The 2012 Yearbook Edition of Broncos Magazine is now available to read online in its entirety.
McGahee's motor still running for Denver Broncos at age 30 | Denver Post
The questions Willis McGahee hears now really aren't so different from the doubts others had about him nine years ago, when he was drafted in the first round despite a significant knee injury suffered in his final college game.
Broncos Training Camp Practice Report: Day 9 | MaxDenver.com
Sometimes, you've got to satisfy the customers — even when they're not paying and the event is free. With more than 41,000 fans on hand and buzzing to watch the Broncos practice, Peyton Manning opened a seven-on-seven period early in practice by completing five straight short passes to tight ends and running backs.

Peyton Manning Gives Big Crowd Some Thrills | Huffington Post
On his first snap, Peyton Manning went deep. He overshot Demaryius Thomas but nonetheless showed off his arm strength to any doubters that might remain.
Broncos star LB Miller wants more of everything in second year | Denver Post
For all the spectacle-wearing, sack-dancing, award-winning fun Von Miller had as a rookie for the Broncos last season, he is working on something bigger.
Record crowd at Broncos scrimmage sees into the mind of Manning | Denver Post
The Broncos love their starting quarterback's résumé. They love his work habits. They love his arm and composure.
Broncos want improved tackling, but a healthy team, after camp | Denver Post
On one of the last plays of a sun-swept scrimmage attended by more than 41,000 fans Saturday, the biggest quandary of the Broncos' preseason played out in 3-D.
Broncos' off-field competition matches electronic media opponents | Denver Post
The London Olympics will be in full swing Thursday night. But here's a prediction.
Peyton Manning clearly all well and good for Broncos | Denver Post
WHAM! On the first play of the Broncos' scrimmage Saturday afternoon, Peyton Manning flung the football more than 50 yards toward Demaryius Thomas.
A preseason glance at the Broncos' AFC West brethren | Denver Post
The Broncos are fully embroiled in training camp, with all things Dove Valley grabbing headlines. But their AFC brethren have rolled up their sleeves as well.
Denver Broncos Blogs
Training Camp 2012: Summer Scrimmage Photos | DenverBroncos.com
A record 41,304 fans took in the Broncos' summer scrimmage at Sports Authority Field at Mile High.
Scenes from a Practice: Training Camp Day 9 | MaxDenver.com
Check out the images from the Broncos' raucous practice at Sports Authority Field at Mile High.
Broncos Notebook: Players put on show for record scrimmage crowd | CBS Sports
In front of an enthusiastic and massive crowd that spilled into the second and third decks, the Broncos had the closest thing to an actual game, working in team situations for most of a 90-minute practice Saturday.
Mitch's Free NFL Pick Against the Spread Free Football Picks | Sports Chat Place
The Chicago Bears and the Denver Broncos kick off their NFL Preseason schedules as they meet on Thursday at Soldier Field in Chicago.
Denver Broncos Videos
Summer Scrimmage: Manning | DenverBroncos.com
Peyton Manning talks about taking his first snaps in Sports Authority Field at Mile High as a Bronco.
Summer Scrimmage: Fox | DenverBroncos.com
Head Coach John Fox talks about what the team accomplished during Saturday's practice and the impact made by the record crowd.