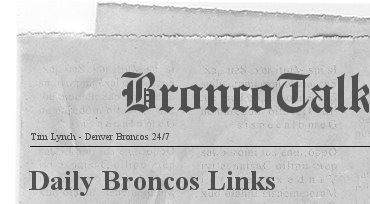 Be sure to follow me on Twitter for more Broncos updates throughout the day.
Denver Broncos News
Denver Broncos 2012 Training Camp: Day 7 | BroncoTalk
Peyton Manning and the Denver Broncos again drew a record crowd Thursday morning, the seventh full practice of the Denver Broncos' 2012 training camp.
Relationship Building | DenverBroncos.com
Peyton Manning connected with Demaryius Thomas several times Thursday morning, showing that a rapport is growing with the QB and the team's skill players.
Broncos to show off Manning at Saturday practice at big stadium | Denver Post
A record number of football fans have been showing up at Dove Valley, the Broncos' training facility, to watch Peyton Manning's training camp debut with the Broncos.
Thomas makes impression on Broncos in Decker's absence | CBS Sports
After signing with the Broncos in March, Peyton Manning and wide receiver Eric Decker were able to work on their timing immediately — and they did, venturing to a local high school for extra work beyond what the collective bargaining agreement permits at the team facility.

Broncos' Summer Scrimmage gives fans a free peek at team | Fox 31
Broncos fans have a chance to see the team in action on Saturday at Sports Authority Field at Mile High.
Eric Decker's down, but Peyton Manning doesn't miss a beat | Pioneer Press
Even with Eric Decker down, Peyton Manning didn't miss a beat. Decker has been the star of the Broncos' training camp so far, but when he went out with a strained groin, Demaryius Thomas stepped up to solidify his standing in Manning's eyes and with Denver's refurbished offense.
BRONCO HOPING GIRLFRIEND WINS GOLD | Fox Sports
Defensive tackle Mitch Unrein is setting his alarm for the wee hours Saturday morning even though the Denver Broncos' stadium scrimmage isn't until mid-afternoon.
Broncos D-coordinator Jack Del Rio prefers sideline to booth | Denver Post
Del Rio likes his view from the sideline just fine. In the end, it often comes down to preference for a play-caller — in the booth or on the sideline.
Peyton Manning already has memorable history playing in Denver | Denver Post
If he's nervous, it's only because for all his robotic passing proficiency, Peyton Manning is human. If he is excited, he will hardly be the only one.
Injuries hit Broncos' WR corps, so Denver signs a free-agent | Denver Post
It is another long-time training camp tradition — the Week 2 caravan into the trainer's room for players with a variety of muscle strains.
Broncos quarterback Peyton Manning finds target in Demaryius Thomas | Denver Post
Though wide receiver Eric Decker appeared to be quarterback Peyton Manning's favorite target most of the first week of training camp, Decker did not fully participate Thursday. That opened the door for Demaryius Thomas .
Peyton Manning favorite Eric Decker sits out Broncos drills | Denver Post
A day after tweaking his groin muscle, Broncos wide receiver Eric Decker was back on the field Thursday with his teammates, but did not participate in 7-on-7 drills or team work. Decker is in full pads and participated in the individual drill portion of practice.
Broncos' Jacob Tamme seizes chance to hone skills vs. elite cornerback | Denver Post
During his time at the University of Kentucky, Broncos tight end Jacob Tamme handled his business in the classroom well enough to earn academic All-Southeastern Conference honors in four consecutive seasons.
Denver Broncos Blogs
Manning, Offense Continue to Jell | DenverBroncos.com
Peyton Manning and the Broncos offense are using training camp to establish chemistry with one another.
Manning draws another big crowd for Broncos at training camp | First & Orange
Training camp is a week old, but Broncos fans continue to show up in record numbers.
Broncos Training Camp Practice Report: Day 7 | MaxDenver.com
Eventually, when the Broncos advance from the practice field to preseason play, the cornerbacks will have a little extra advantage than they possess on the practice field — the element of surprise on receivers who don't know their tactics. At that point, the Broncos will learn just how much the addition of Tracy Porter opposite linchpin Champ Bailey will help their cause.
Ghost of Josh McDaniels haunts Broncos | CBS Sports
The shadow of Josh McDaniels no longer lingers over the Broncos, but his first draft as head coach continues to confound and disappoint them.
The Kaptain's Log – 8/2/12 – Broncos Training Camp | Mile High Report
Thursday morning's Broncos Training Camp practice at Dove Valley was another hot one. I sit with Troy (aka KB) at the 48 yard line, slightly in the shade. At 8:35, Mark Dell is the first player to emerge from the Locker room and he is in full pads.
Longtime nemeses join forces in Denver | ESPN Blog
There is a mutual respect forged between the two for three decades, dating back to their days as rivals in the SEC when Peyton Manning was quarterbacking Tennessee and Champ Bailey was a lock-down cornerback at Georgia.
Denver Broncos Videos
Front Row Center: Day Eight | DenverBroncos.com
Exclusive field level highlights and sound as it happens from Thursday's practice.
Training Camp Day Eight: Manning | DenverBroncos.com
Peyton Manning talks about the progression of the offense and why Champ Bailey is the best corner he's played against.
Training Camp Day Eight: Del Rio | DenverBroncos.com
Defensive coordinator Jack Del Rio talks about what he's seen after the few days the team has spent in pads.
Training Camp Day Eight: McCoy | DenverBroncos.com
Offensive coordinator Mike McCoy talks about Knowshon Moreno's health and the progression of the offense.