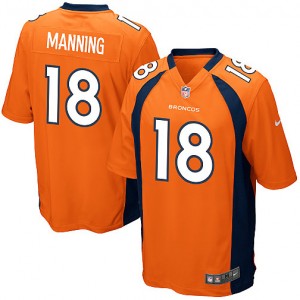 Denver's quarterback is more popular than… every other player in the NFL.
Peyton Manning—the man who has attracted record crowds during training camp sessions at Dove Valley—has found a new home with a new team in Colorado.  As a result, his No. 18 Denver Broncos jersey has been the best selling jersey on NFLShop.com since April 1, according to Broncos PR guru Patrick Smyth.
Manning missed the 2011 season and consequently, his jersey was not among the top ten sellers last year. Â Now in Denver, Manning's jersey has been flying off the shelves (Kyle recently attempted to purchase one but the city was sold out).
Fans have good reason to be excited about Manning's arrival: Â He is arguably the greatest quarterback of all time.
That is why the Broncos are expecting a record crowd at Sports Authority Field at Mile High on Saturday when Manning slings a few passes for the first time in his new home stadium when the team conducts their annual Summer Scrimmage.  Admission is free and Manning will be signing autographs after the scrimmage.  Denver's previous record of 20,782 fans should be easily broken.
There's just something about the guy that causes fans to adore him.  Perhaps it's his classic Manning face or his phenomenal acting in commercials.  Or, maybe it is his four league MVP and Super MVP awards.  Whatever the case, fans can't get enough of him.  And we thought Tebowmania was a big deal.