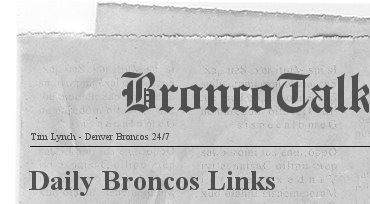 Be sure to follow me on Twitter for more Broncos updates throughout the day.
Denver Broncos News
Denver Broncos Training Camp 2012: Day 6 | BroncoTalk
The Denver Broncos predicted the weather would make their 2:20 p.m. practice impossible, so they moved it up four hours and closed it to the public.
Front Row Center: Day Seven | DenverBroncos.com
Exclusive field level highlights and natural sound from Wednesday's practice at Dove Valley.
Broncos' upgrade to Peyton Manning is no passing fancy | USA Today
It was a seven-on-seven drill midway through a training camp session, essentially pitch-and-catch for any quarterback and his wide receivers.
Manning's 2-minute offense poses challenge for Broncos defense | Denver Post
Much of Wednesday's practice was devoted to position-specific drills. But when the Broncos went first-team offense vs. first-team defense, it got more interesting, particularly in the two-minute drill.
Broncos No. 10 in first Associated Press NFL rankings | First & Orange
In the first edition of the new Associated Press's Pro32 NFL rankings, an expert panel has ranked the Broncos at No. 10 out of the league's 32 teams.

Broncos' beefed-up secondary a plus for Manning | SI.com
Peyton Manning is discovering that one of the biggest benefits to joining the Denver Broncos is their star-studded secondary. It's helping him gauge his progress in his comeback, sharpen his timing with his new targets and scrape away the rust after his lost 2011 season.
When looking for defensive tackles, Broncos' Jack Del Rio says bigger is better | Denver Post
Looking back, it brings a small smile to Kevin Vickerson's face. But when the Broncos defensive tackle met first-year defensive coordinator Jack Del Rio this offseason, Del Rio dispensed with the usual how-are-you openers and went right to the, well, bottom line.
Broncos' wide receivers deal with some nagging injuries | Denver Post
While his wide receiver teammates still were running through their routes at the start of Wednesday's practice, Eric Decker walked to the sideline with head athletic trainer Steve Antonopulos.
Broncos' Elvis Dumervil, Von Miller pack combination punch if healthy | Denver Post
The guys who get paid to face the Broncos defense during the regular season know they won't get to see the good stuff until September.
Broncos wide receivers in a scramble for final roster spots | Denver Post
The Broncos heavily scouted Arizona State quarterback Brock Osweiler leading up to this past April's draft. They liked what they saw elsewhere on the Sun Devils roster, too.
Chiefs scramble to reinforce O-line; Raiders plan to mobilize QB | Denver Post
The Broncos are fully embroiled in training camp, with all things Dove Valley grabbing headlines here. But Denver's AFC West brethren have rolled up their sleeves as well.
Denver Broncos Blogs
Training Camp 2012: Day Seven | DenverBroncos.com
A forecast of inclement weather forced the Broncos to cancel Wednesday's public practice and move the session up a few hours. The media-only practice ended just in time, as a torrential downpour began just as Head Coach John Fox blew his whistle to signal the end of the session.
Tight End Tandem | DenverBroncos.com
Tight ends Jacob Tamme and Joel Dreessen have been extremely involved in the offense through the first week of training camp.
Broncos Training Camp Practice Report: Day 6 | MaxDenver.com
It's too bad that impending thunderstorms forced the Broncos to move up their practice and conduct it in front of a few handfuls of VIPs and credentialed media.
Scenes from a Practice: Training Camp Day 6 | MaxDenver.com
Check out the images from the Broncos' sixth practice of 2012 training camp, conducted in front of a few dozen VIPs and media members because of a storm-spurred rescheduling at Dove Valley.
Peyton Manning looks good in Broncos two-minute drill | CBS Sports
The Broncos had 70 seconds on the game clock, 60 yards to traverse, one timeout remaining and a six-point deficit on the scoreboard. Just what Peyton Manning wanted.
Broncos Training Camp – First Impressions From Week One | MileHighReport
The first week of Training Camp is nearly in the books for the Denver Broncos. The players will be returning to the field after a well earned day off. Six practices are complete, with one being canceled for the public due to bad weather and three of them being full pad sessions.
Broncos Practice Report 8/1 | Predominantly Orange
The Denver Broncos decided to move their practice up thanks to the weather pattern in the Denver area lately. Instead of having practice Wednesday afternoon, they moved it to the morning to avoid the thunderstorms.
Denver Broncos Videos
Training Camp Day Seven: Fox | DenverBroncos.com
Head Coach John Fox talks about running the hurry up offense during Wednesday's practice.