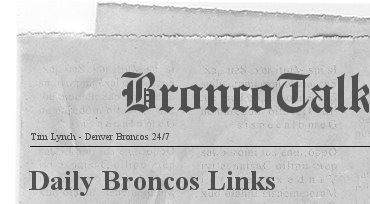 Be sure to follow me on Twitter for more Broncos updates throughout the day.
Denver Broncos News
Denver Broncos 2012 Training Camp: Day 5 | BroncoTalk
The Denver Broncos continued their 2012 training camp on Monday in front of 4,271 fans and under sunny skies. Champ Bailey stole the show with some impressive pass breakups from Peyton Manning, while the offense and defense each brought new elements to the table.
Training Camp Day Five: Fox | DenverBroncos.com
Head coach John Fox talks to the press after Monday morning's practice.
Ronnie Hillman eager to rev Denver Broncos' offense with rare motor | Denver Post
Sports love comparisons. Andrew Luck is the best quarterback prospect since Peyton Manning. Josh Hamilton reminds so many of star-crossed Mickey Mantle. LeBron James is, or is nowhere close to, Michael Jordan.
Broncos receivers must avoid Peyton Manning's cold side | Denver Post
The late Mike Heimerdinger, who was not only one of the best but most underrated quarterback coaches in the NFL, used to call it "the cooler."
Broncos Training Camp Practice Report: Day 5 | MaxDenver.com
Now this is what we expected. Five days into training camp, the Broncos finally unveiled the look from which they may end up running a majority of their offensive snaps this year: the no huddle.

Wesley Woodyard gets first crack at D.J. Williams' position | Boston Herald
D.J. Williams burst out of his stance and put a lick on one of his teammates during a block-and-shed drill with the rest of the Denver Broncos linebackers Monday. It sure beat the standing around, decoying and sprinting he's had to do so far.
Denver Broncos training camp 'surreal' for QB Brock Osweiler | AZ Central
When a hectic pace slows in Englewood, Colo., where the Denver Broncos hold training camp, former Arizona State quarterback Brock Osweiler thinks back to where he was a year ago, and he can't help but be amazed.
Those 'in the know' share notable observations about Broncos training camp | Fox31
There are several interesting observations and notable comments that came out of Denver Broncos training camp Monday.
Before Peyton Manning signed, Broncos' Brandon Stokley thought his career was over | Denver Post
Catching passes right and left, and even in the middle of the field from Broncos quarterback Peyton Manning, wide receiver Brandon Stokley said he is a long way from where he thought he would be at this point of the summer.
Broncos' defensive depth chart remains a work in progress | Denver Post
After the first week of Broncos training camp, first-year defensive coordinator Jack Del Rio has made two things crystal clear — his defensive depth chart is still very much a work in progress and several starting jobs remain there for the taking.
Will the Broncos' tight ends also run the ball? | Denver Post
Training camp may be less than a week old, but it is easy to see that the Broncos' tight ends, both the new signees and the holdovers, will have plenty of work on all fronts in the team's offense.
Broncos, Ryan Clady break off contract talks | Denver Post
The Broncos and left tackle Ryan Clady mutually decided Monday to end contract negotiations until after the 2012 season.
Champ Bailey shows speed to challenge Manning at Broncos training camp | Denver Post
Everyone digs the long ball it seems and the day's biggest cheers typically are reserved for the big completions, unless Champ Bailey is involved.
Broncos running back Knowshon Moreno working his way back into lineup | Denver Post
For Knowshon Moreno, each training camp practice has brought with it some progress in his lengthy recovery from anterior cruciate ligament surgery.
Denver Broncos Blogs
Osweiler's Eyes, Ears Open | DenverBroncos.com
Rookie Brock Osweiler is making sure he takes advantage of every day during training camp, following quarterback Peyton Manning's lead.
Rookie Danny Trevathan soaking up advice from veteran linebackers | First & Orange
Rookie linebacker Danny Trevathan couldn't have attached himself to a better role model as he walked off the Broncos practice field Sunday night.
Is Terrell Davis Worthy of the NFL Hall of Fame? | Bleacher Report
The voting for this year's NFL Hall of Fame class has come and gone, and former Denver Broncos running back Terrell Davis failed to advance past the list of semifinalists for enshrinement.
Is deep ball a problem in Denver? | ESPN
There has been talk in Denver about Peyton Manning not airing out the ball much on deep passes in the early stages of training camp.
Peyton Manning takes Broncos into the no-huddle | CBS Sports
Five practices into his first Denver Broncos training camp, Peyton Manning finally got into what he knows best: the no-huddle offense.
Knowshon Moreno returns to work eight months after ACL tear | CBS Sports
The Broncos got running back Knowshon Moreno into full-team work Monday morning for the first time since he tore his ACL at Kansas City last November. But he's not quite ready for a full workload.
The Kaptain's Log – 7/30/12 – Broncos Training Camp | MileHighReport
The vantage point of my observations here at the Denver Broncos Training Camp is the 49 yard line. It is a clear and sunny day and I know it will be very hot, so I get close to some shade and settle in.
Broncos S Rahim Moore Ready To Bounce Back In Second Year
With Brian Dawkins retiring, second-year safety Rahim Moore is getting his shot, a second shot. Moore began the 2011 season as a starter, but was inactive by the end of the season thanks to a slew of missed tackles, missed assignments, and untimely penalties.
Denver Broncos Videos
Front Row Center: Day Five | DenverBroncos.com
Field level highlights with no bells or whistles, just natural sound as if you were at Monday morning's practice.