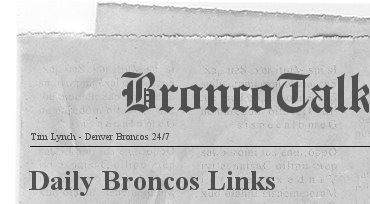 Be sure to follow me on Twitter for more Broncos updates throughout the day.
Record Crowd Reacts To New Look | DenverBroncos.com
The wait is over. Training camp starts at Dove Valley as Peyton Manning and the Broncos run through a high tempo opening day practice. (VIDEO)
Denver Broncos 2012 Training Camp: Day 1 | BroncoTalk
The first training camp practice of the Denver Broncos in 2012 went off without a hitch, and in front of a record crowd.
Broncos Training Camp Practice Report: Day 1 | MaxDenver.com
Peyton Manning hadn't seen — or heard — anything quite like the reception he received Thursday morning as he took the field in front of Broncos fans for the first time.
Record crowd watches Peyton Manning's debut at Broncos training camp | Denver Post
The line started to form well before sunrise, and at exactly 7:55 a.m., the first Broncos fans were allowed inside the gates of Dove Valley.

Peyton Manning already is rallying the Denver Broncos, fans | LA Times
The quarterback, who served the Indianapolis Colts with distinction, impresses boss John Elway with his attention to detail as training camp begins.
Broncos quarterback Peyton Manning the man again after steady progress | Denver Post
Let's go back to that mysterious time at Duke University. It was on the eve of St. Patrick's Day, and Peyton Manning was giving a private audition for the Broncos' brass, coaches and medical team.
With Day One down, Broncos look forward to rest of season | Denver Post
One down, plenty of high hopes to go. The Broncos formally opened training camp practices Thursday with a future Hall of Famer at quarterback in Peyton Manning and a record crowd on hand to see it.
Eaton native Mitch Unrein works with starters | Denver Post
In his climb from the waiver wire into the Broncos' defensive huddle, Mitch Unrein has discovered three simple rules.
Former Broncos safety John Lynch is fired up to speak to team | Denver Post
Broncos coach John Fox brought in a heavy hitter to speak to the team on the eve of training camp. After the players reported for camp Wednesday, Fox had former Buccaneers and Broncos safety John Lynch address the them at an evening team meeting.
Why couldn't Tim Tebow still be Denver Broncos' No. 2 quarterback? | Denver Post
By that the decision was made that they did not want to play the kind of offense that suited Tebow the best over the long term, which would be an option-oriented attack with questions still lingering over whether Tebow will be able to advance his game enough to be a starter in a more traditional passing look.
Broncos coach John Fox asks Rod Smith, John Lynch to motivate team | Denver Post
There have been times when Broncos coach John Fox has said sometimes players just need to hear an alternate voice to get the most out of the message.
Manning Back in His Element | DenverBroncos.com
Quarterback Peyton Manning made it clear he was excited to get training camp started.
Training Camp 2012: Day One P.M. | DenverBroncos.com
The slower-paced walkthrough sessions are designed to work on installing new plays and concepts and are completely non-contact. Players wear their jerseys, but no pads or even helmets.
Roger Goodell sends letter to NFL fans about player wellness program | First & Orange
An email from NFL commissioner Roger Goodell landed in the mailboxes of many, many NFL fans Thursday evening.
Panthers WR Steve Smith pledges $100,000 to Aurora shooting victims | First & Orange
Carolina Panthers wide receiver Steve Smith is making a major financial contribution to help victims of the Aurora movie theater shootings.
Broncos generation gap: From 36-year-old Peyton Manning to 20-year-old Ronnie Hillman | First & Orange
Until recently, Peyton Manning was nothing more than a video game star to Ronnie Hillman.
Broncos position battles at training camp: Unrein, Moore, Woodyard, Ramirez | First & Orange
Some of the notable depth chart developments in Day 1 of Denver Broncos training camp…
The Kaptain's Log – 2012 Broncos Training Camp – 7/26/12 | MileHighReport.com
Ah yes. Opening day of Bronco season is here at last. Training Camp, the first chance for Broncos Country to see their favorite team, the new players and of course, Peyton Manning.
The Last Sunday Without Football… | MileHighReport.com
The last NFL football game we saw was Super Bowl XLVI played February 5, 2012. As we all know, the Denver Broncos and their fans had no choice but to watch the big game from home. In the twenty-five weeks since then, a great deal has changed for the Broncos. Out with Tim Tebow, Eddie Royal and Brodrick Bunkley.
Manning ready to face pressure in Denver | ESPN
The Peyton Manning era in Denver began Thursday as the Denver Broncos opened training camp in Englewood, Colo. Fans began lining up at 4 a.m. to get into the practice, and 4,000 fans watched the workout, the most for a practice since the team moved its training camp to this site in 2003.
Denver will give Hillman chance to shine | ESPN
One of the players I am most interested watching Thursday when the Denver Broncos open training camp is rookie running back Ronnie Hillman.
Broncos Training Camp: 1st Team Offense And Defense After Day 1 | SB Nation
The Denver Broncos completed the first day of training camp with much fanfare, seeing over 4,000 individuals make their way into Dover Valley's facilities, but we won't see a depth chart for some time. Still, we did get a glimpse of what the Broncos' first-team unit on offense and defense will look like.
Peyton Manning's First Training Camp Practice in Front of Enthusiastic Denver Broncos Fans | Yahoo! Sports
When Peyton Manning stepped out onto the practice field at Dove Valley today five minutes before the start of the first public training camp session, 4,000 fans cheered as one. He wasn't the first guy out there. Several made it out before Manning did, but all eyes turned to No. 18 once he arrived.
Training Camp Day 1: Fox | DenverBroncos.com
John Fox talks about officially starting training camp and gives his take on the team's first practice.
Training Camp Day 1: Manning | DenverBroncos.com
Peyton Manning talks about today's practice, his durability heading into camp and the importance of the next three weeks.