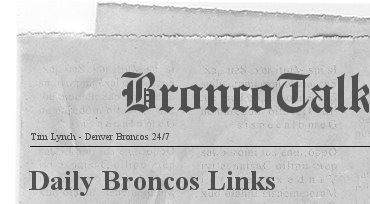 Be sure to follow me on Twitter for more Broncos updates throughout the day.
Denver Broncos News
Ten storylines that will have my attention during my camp tour | Peter King
The comeback of Peyton Manning. Really, it'd be better to see him after two weeks of camp, when he's thrown a lot, to see how his arm is holding up. But I'll see Manning on his first full day in pads with the Broncos at 8:50 a.m. Saturday.
Jack Del Rio, Luke Richesson hired help for Denver Broncos | Denver Post
The story behind the story of the Broncos' offseason began in January on a flight bound for Denver from Jacksonville, Fla. That flight had Jack Del Rio and Luke Richesson checking their boarding passes.
Denver Broncos probably have all the safeties they want this season | Denver Post
NFL player personnel like Leonhard's intelligence on the field, his ability to tackle in the open field and his knack to create turnovers at key times, either with a big hit or an interception.
How Will The Broncos Handle Suspensions? | CBS Sports
The Broncos' two primary offseason storylines were defined on the same March afternoon: Peyton Manning and player suspensions.

Broncos, Manning embark on reconstruction project | Washington Post
Peyton Manning swears he's not 100 percent yet. The Denver Broncos swear it doesn't matter. He looks fine to them.
Kids have a blast at Broncos training camp | The Tribune
Cade Zeller ran, jumped, dodged and weaved through a half-dozen or so drills Tuesday.
Peyton watch in Denver headlines preseason | WTHITV.com
Peyton Manning has changed his ride, from a Colt to a Bronco. Tebowmania has moved from the Rocky Mountains to the Meadowlands.
Broncos sign Brock Osweiler, Ronnie Hillman to complete rookie roster | Denver Post
Brock Osweiler, a second-round draft pick, received a four-year contract worth roughly $3.1 million that included the same signing bonus of $997,584 that Detroit running back Mikel Leshoure received last year as the No. 57 overall draft pick.
Broncos OL Chris Kuper will have practice limited at training camp | Denver Post
Maybe if it was just one torn ligament or one broken bone or one screw, Broncos' starting right guard Chris Kuper would have been fully recovered by the first day of training camp Thursday.
Denver Broncos Blogs
Broncos Ink Full 2012 Draft Class | DenverBroncos.com
On Tuesday, the Broncos agreed to terms with quarterback Brock Osweiler and running back Ronnie Hillman, meaning the club has all seven of its 2012 NFL Draft picks under contract.
Broncos Much Stronger Team Heading into Training Camp | Yahoo Sports!
The 2012 Denver Broncos open training camp this week and fans should be getting geared up for an exciting NFL season. Granted, it will be hard to top the excitement and suspense of the semi-miraculous 2011 season when it seemed like everyone couldn't stop talking about the Time Tebow-led Denver Broncos.
Broncos first training camp meeting: 4 p.m. Wednesday | First & Orange
Bronco players will go through their dreaded conditioning tests on Wednesday morning. There will be a noon media barbecue that will include a chat with Broncos coach John Fox and a few select players.
Broncos training camp conditioning test at Dove Valley | First & Orange
Every team is different, and the Broncos have a new strength and conditioning coach in Luke Richesson but typically, the dreaded pre-camp conditioning test consists of two, 300-yard shuttles.