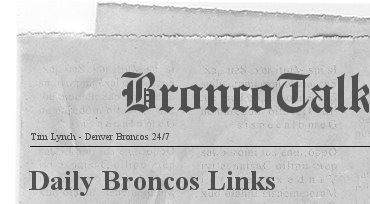 Be sure to follow me on Twitter for more Broncos updates throughout the day.
Denver Broncos News
Broncos happy to have Jack Del Rio, but his stay could be short term | Denver Post
Del Rio is the Broncos' seventh defensive coordinator in seven years. The previous six: Larry Coyer, Jim Bates, Bob Slowik, Mike Nolan, Don Martindale and Dennis Allen. Allen now coaches the Oakland Raiders.
Denver Broncos training camp: a smart fan's guide and how-to | Denver Post
On Thursday morning, the Broncos will open the gates to the first of 17 open training camp practices at Dove Valley, giving fans a free look at the team and players as they prepare for 2012.

Broncos' Champ Bailey gets ride of his life in Thunderbirds' F-16 | Denver Post
As Lt. Col. Jason Koltes zipped up his G suit, smiling at the prospects of another dance across the sky, he looked at Champ Bailey standing a few feet away and made a prediction.
Denver Broncos Blogs
'Anything We Can Do to Help' | DenverBroncos.com
On Monday, seven Broncos visited Swedish Medical Center to meet with more victims of the Aurora shootings.
Training camp opening day forecast: 97 degrees | First & Orange
The forecast for Thursday, when the Broncos have their first set of practices, is 97 degrees. Wouldn't have it any other way.
Broncos players reach out to Colorado shooting victims | Yahoo!
It's difficult to know what to think, or what to do, in the wake of the theater shooting in Aurora, Colo., that led to 12 deaths and 58 injuries on Friday morning.
Denver Broncos Videos
Pulling G's | DenverBroncos.com
Champ Bailey spends a the day with the Thunderbirds and withstands nine times the weight of gravity during his 45-minute flight.