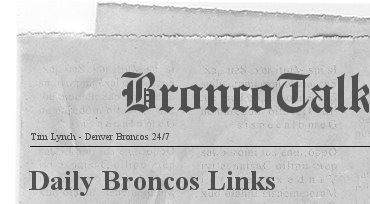 Be sure to follow me on Twitter for more Broncos updates throughout the day.
2012 Training Camp Schedule Released | DenverBroncos.com
The Broncos announced the 2012 Training Camp schedule on Monday that features 18 practices that will be open to the public free of charge.
Denver Broncos Training Camp Primer | Denver Post
When most of the football-loving world last saw the Broncos, Patriots quarterback Tom Brady had just spent an evening reinforcing the definition of "franchise quarterback" with his six-touchdown, 363-yard performance in New England's 45-10 victory in the second round of the playoffs last season.
Broncos offer Ryan Clady five-year deal worth $50 million | Denver Post
Training camp is about to begin and a significant gap must be closed if the Broncos are to lock up left tackle Ryan Clady with a long-term extension.

Peyton Manning eyes Denver Broncos training camp | NFL.com
We're sure there are NFL players who view the start of training camp the same way a 9-year-old boy grimly looks ahead to the first day of school.
Broncos visit Colo. shooting victims in hospital | Denver Post
A half dozen Denver Broncos visited with survivors of the Colorado theater shooting on Sunday to try to lift their spirits.
Denver Broncos' tight ends will be more involved in the passing game | Denver Post
The Broncos hope to get production at tight end that's close to what Aaron Hernandez and Rob Gronkowski have provided the Patriots, who selected Gronkowski in the second round and Hernandez in the fourth round of the 2010 draft.
Woody Paige: Questions shroud beginning of Broncos' season | Denver Post
Verily, the Broncos' past season involved throughout, and revolved around, Tim Tebow, John Elway and the Biblical scripture John 3:16.
Peyton Manning sets example for Broncos as a happy training camper | Denver Post
If he had his way, Peyton Manning would take the tedium, isolation and discomfort of his first Broncos training camp and make it more tedious, more isolated and even more uncomfortable.
Denver Broncos can't afford to lose defensive end Elvis Dumervil | Denver Post
Cents vs. sense. All the money in the world can't buy common sense for NFL players. Play-acting "Sopranos" in traffic gridlock on Miami Beach probably provided some good belly laughs for Broncos defensive end Elvis Dumervil and his friend right up to the part when they were face down on a hot car hood, listening to the Miranda warning.
Peyton Manning wishes the Broncos went away to camp | Pro Football Talk
If Peyton Manning had his way, the Broncos would buck the growing trend toward having training camp at their regular facility.
Eric Decker, Brian Dawkins and five other Broncos visit Aurora theater shooting survivors
Survivors of the Aurora theater shooting who were taken to Medical Center of Aurora and remain there since Thursday got a visit Sunday from several Denver Broncos players.
No NFL team is younger than the Kansas City Chiefs
This stat caused me to double-take: According to Adam Teicher of Kansas City Star, the Kansas City Chiefs are the only NFL team that will begin training camp with no player older than 30 years old.
Peyton Manning Wants Broncos Training Camp Away From Team Headquarters | Predominantly Orange
Sometimes the comforts of home are nice, but to really grow one has to step outside of his or her comfort zone.
Making Every Rep Count | DenverBroncos.com
Strength and conditioning coach Luke Richesson and his staff are using a fresh approach to get players physically prepared for the season (file video).
NFL Network: Denver's Batman And Robin | DenverBroncos.com
Warren Sapp breaks down what makes Broncos pass-rush specialists Von Miller and Elvis Dumervil so dangerous to opposing QBs.