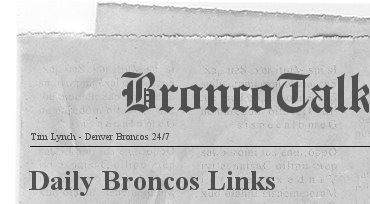 Be sure to follow me on Twitter for more Broncos updates throughout the day.
Denver Broncos News
Jersey days: Knowing the first but remembering the last | Denver Post
As a sports staffer here at The Denver Post, I'm not supposed to ever wear any clothing that has a logo of any of the city's professional teams.
Nine up, seven down for Broncos on schedule | Denver Post
On the sixth business day of the league year, way back on March 20, the Broncos paid Elvis Dumervil a $13.3 million advance on his $14 million salary.
Contract terms block Ryan Clady deal with Broncos | Denver Post
Contract negotiations between the Broncos and all-pro left tackle Ryan Clady have been snagged. The two sides recently exchanged multiyear proposals but the numbers were far enough apart that an NFL source said an extension by the time the Broncos are to report to training camp next Wednesday does not seem likely.

Broncos' Elvis Dumervil confident "truth will come out" about arrest | Denver Post
Fingerprint tests on the semi-automatic pistols confiscated by Miami Beach police are likely to become a key component of the investigation in the Elvis Dumervil case.
Peyton Manning Buys in Colorado | Forbes
The year got off to a rocky start for NFL superstar Peyton Manning, as he left his adopted home of Indianapolis after leading the Colts to nine consecutive playoff appearances and a Super Bowl title.
Knowshon Moreno fights Denver Broncos bust label | NFL News
Welcome to Knowshon Moreno's make-or-break training camp. The 2009 first-round pick has enjoyed a loose leash in Denver, despite seeing his production tumble in each of his first three seasons.
Report: Broncos' Dumervil Says 'Truth Will Come Out' About Arrest | Channel 7 Denver
Denver Broncos' defensive star Elvis Dumervil says, "The truth will come out" about his arrest in a Miami Beach, Fla., traffic dispute where he and a friend are accused of threatening a couple with handguns.
Denver Broncos Blogs
Position Preview: Wide Receivers | DenverBroncos.com
In the final week before training camp, DenverBroncos.com continues to take you inside the roster, position-by-position. Next up in the series: the wide receivers.
For what it's worth: D.J. Williams ordered to pay NFL $536 in court costs | First and Orange
In closing out its case between Broncos linebacker D.J. Williams and the NFL, the U.S. District Court in the District of Colorado ordered Williams to pay $568 in court costs to the league.
Denver billboard pokes fun at Elvis Dumervil arrest | First and Orange
The folks at MultiLine International Imports made headlines last fall when they used their digital billboard just east of I-25 to urge Broncos coach John Fox to play quarterback Tim Tebow.
Tim Tebow Still Receives Support from Denver | Yahoo! Sports
Former Denver Broncos QB Tim Tebow may not be wearing orange anymore, but he is still receiving support from the fans in Denver. These fans have shown their support for Tim on and off the field and, this year, the fans in Denver came through in a big way for Tebow's foundation.