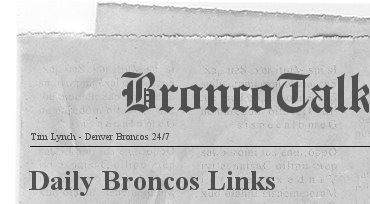 Be sure to follow me on Twitter for more Broncos updates throughout the day.
Denver Broncos News
With Broncos' Peyton Manning driving, the bus waits for no one | Denver Post
When the Broncos adjourned their final on-field minicamp practice last month and sent the players into what remained of the offseason, there was a clear message shipped out with them.
Broncos' Elvis Dumervil arrested in Miami on felony assault charge | Denver Post
Broncos defensive end Elvis Dumervil was arrested Saturday in Miami Beach, Fla., on suspicion of aggravated assault with a firearm, according to court records in Miami-Dade County.

High-profile Manning family likes to talk football, and teach it too | Denver Post
Sure, it's mildly stunning to watch the star hosts of the high-profile football camp bring 'em in, deliver instruction, exhort encouragement, get sweaty with the drills and put in 18-hour days.
AFC breakdown: All eyes on Denver Broncos in offseason | Denver Post
The NFL's era of free agency has had its share of blockbuster courtships, of big-name players moving on to put their names on somebody else's marquee.
Report: Peyton Manning dazzles during throwing exhibition | Sporting News
Peyton Manning's comeback from neck surgery will be one of the most scrutinized training-camp story lines later this month.
Police: Broncos' Dumervil Brandished Gun In Dispute | Channel 7 Denver
Denver Broncos defensive star Elvis Dumervil and a friend are accused of brandishing guns and threatening another person during a dispute over a parking space in South Beach on Saturday night, police said.
Denver Broncos Blogs
TD's Tokyo Hit Still Impacting Broncos | DenverBroncos.com
The story of Terrell Davis's memorable preseason tackle in August of 1995 is still used to motivate young players.
Q&A with Brian Callahan | DenverBroncos.com
Offensive Quality Control Coach Brian Callahan talks about his job duties, working with Peyton Manning and his goals as an NFL coach.
Dumervil Arrested in South Florida on Felony Assault with a Firearm | Max Denver
The allegation against Broncos DE Elvis Dumervil carries a mandatory minimum three-year sentence in Florida.
Peyton throws well at his passing camp | First and Orange
There was no rush and no coverage so it may have held no meaning. But based on zip, length and accuracy, Peyton Manning can't throw the ball any better than he did here Saturday night.