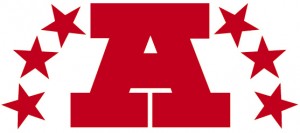 Not to be outdone by NFL Network's meaningless Top 100 list, ESPN has been revealing their Top 40 players from each division in the NFL.  On Friday, they ranked the AFC West.
Ten members of the Broncos made the list, with quarterback Peyton Manning ranked first overall and linebacker Von Miller coming in at No. 4.  Complete list of Broncos that made the cut after the jump.  
No. 1 — Quarterback Peyton Manning.
No. 4 — Linebacker Von Miller.
No. 8 — Cornerback Champ Bailey.
No. 14 — Defensive end Elvis Dumervil.
No. 17 — Offensive tackle Ryan Clady.
No. 20 — Running back Willis McGahee.
No. 24 — Linebacker D.J. Williams.
No. 28 — Guard Chris Kuper.
No. 33 — Cornerback Tracy Porter.
No. 38 — Wide receiver Demaryius Thomas.
"I don't care that he missed all of last season with a neck injury. Manning is one of the greatest players ever to live. He'll remain atop the division until he proves otherwise," ESPN's AFC West blogger Bill Williamson wrote.
Several observations can be taken from the list —
Kansas City pass rush specialist Tamba Hali was ranked third overall, one spot above Miller.  Last season, Hali finished the year with 12.0 sacks.  Miller had 11.5.  Since 2006, Hali has recorded 53.5 sacks — Denver's Dumervil has recorded 52.5 in the same time period despite missing the entire 2010 season.
Bailey is rightfully the highest ranked cornerback in the division and the third-highest ranked defensive player (behind Hali and Miller). Â Kansas City's Brandon Flowers (No. 18) and Stanfor Routt (No. 31) both rank higher than Porter, who is one spot above San Diego's Quentin Jammer (No. 34).
Thomas (No. 38) is the lowest ranked receiver on the list, behind Oakland's Darrius Heyward-Bey (No. 37) and Kansas City's Dwayne Bowe (No. 10).  Bowe being ranked above Thomas is much more justifiable than Heyward-Bey's higher ranking.
Although many fans want him run out of town, D.J. Williams (No. 24) is still considered one of the top four linebackers in the division, behind Kansas City's Derek Johnson (No. 11), Denver's Miller (No. 4) and KC's Hali (No. 3). Â Dumervil is considered the second-best defensive lineman in the division behind Oakland's Richard Seymour (No. 13) despite that fact that Dumervil recorded 3.5 more sacks than Seymour last season.
McGahee (No. 20) is ranked behind Oakland's Darren McFadden (No. 5), Kansas City's Jamaal Charles (No. 7) and above KC's Peyton Hillis (No. 25). Â Clady is ranked behind Kansas City's Eric Winston (No. 16) and above Oakland's Jared Valdheer (No. 35) and San Diego's Jared Gaither (No. 36). Â Kuper is the only guard on the list (No. 28).
You can view the Top 40 on the Worldwide Leader's AFC West Blog. Â What do you think of the rankings? Â Let us know in the comments below!