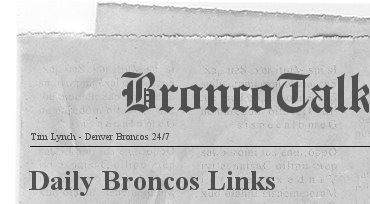 Be sure to follow me on Twitter for more Broncos updates throughout the day.
THE THREE STOOGES | Mile High Sports
Matt Prater often calls home to Florida to see if his dad has seen any hawks. No joke. Prater's nickname is "Hawk" for that very reason.
Matt Prater's new Broncos deal a long way from nearly being cut by Shanahan | First and Orange
When the Broncos signed kicker Matt Prater to a new four-year, $13 million deal Monday, it was a testament to how far Prater has come in the NFL.

Rod Smith makes the cover of Broncos' 2012 media guide | First and Orange
While Peyton Manning, nattily attired in his new Broncos' togs, will likely grace the cover of plenty of sports sections and magazines all over the football nation in the coming weeks and months, the Broncos gave former wide receiver Rod Smith the nod on the latest edition of their media guide.
Best sports song of all-time: Chariots of Fire | First and Orange
Naperville, Ill. — I'm running in some Firecracker 5K in Warrenville, Ill. on the Fourth of July and I needed some inspiration. The story of Eric Liddell, a phenomenal Scottish rugby player and sprinter, and the theme music to "Chariots of Fire" kept popping into my head.
Osweiler, Hillman only two unsigned Broncos | First and Orange
With the Broncos making Matt Prater the NFL's fifth highest-paid kicker Monday, the team now has just two contracts left to settle — those of rookies Brock Osweiler and Ronnie Hillman.
Bringing Smiles to the Fire | DenverBroncos.com
A group of Broncos players, cheerleaders and Miles the Mascot spent time in Colorado Springs meeting firefighters and support personnel battling the Waldo Canyon Wildfire on Tuesday.