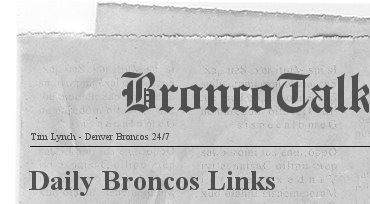 Be sure to follow me on Twitter for more Broncos updates throughout the day.
Broncos sign kicker Matt Prater to four-year contract | Denver Post
He was a kicker three NFL teams released before he arrived in Denver, so Matt Prater has lived the day-to-day, sometimes hour-to-hour, life that comes with the position in a league with little patience.
Prater Ready to Kick Off 2012 Season | DenverBroncos.com
Kicker Matt Prater talked about his feelings on signing a four-year contract with the Broncos on Monday.

Prater the NFL's 5th highest paid kicker | First and Orange
Matt Prater is now higher paid than Adam Vinatieri, who has four Super Bowl rings. He's higher paid than Mason Crosby, who has a ring. He's higher paid than David Akers, Rod Bironas and Olindo Mare.
Little Known Broncos Facts: Opening Day (2000s & 2010s) | MHR
I have a feeling that most Broncos fans see the 2000s and the 2010s as something of a failed experiment for their beloved team — and may be seeing that decade (plus two seasons) through the filter of that awful 4-12-0 2010 season.
Denver Broncos – Sunday Night Football Take Two | Predominantly Orange
In approximately eleven weeks the 2012 NFL season will be upon us. Considering that it has been 5-1/2 months since the 2011 season came to an end in New England, we are well over the hump and on the very edge of another Bronco season.