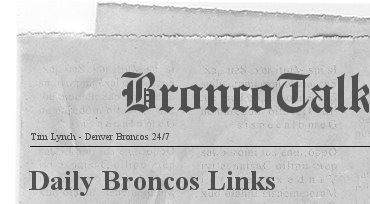 Be sure to follow me on Twitter for more Broncos updates throughout the day.
D. Thomas: 'whole route tree' now in play with Manning | CBS Sports
In April, weeks after the Broncos landed Peyton Manning and unloaded Tim Tebow on the Jets, Denver wide receiver Demaryius Thomas admitted what everybody already knew: Tebow, NFL passer, struggled with accuracy last season.
2012 Game-by-Game: Week 2 | DenverBroncos.com
In week two of the 2012 season, the Broncos travel to Atlanta to take on the Falcons on Monday Night Football.

Four Broncos games moved back 10 minutes — take advantage of that time | Denver Post
The NFL announced Thursday that it will push back the kickoff times of 40 games this fall, including four Broncos games. All games that were the back half of a double-header on either CBS or Fox will start at 2:25 Mountain Time, instead of 2:15.
Four Broncos meet with High Park Fire evacuees, fire firefighters | First and Orange
Broncos defensive tackle Mitch Unrein grew up in Eaton about 20 miles east of Ft. Collins, and from his parents' house, could see the billowing smoke of the High Park Fire.
When is it time to call it quits? | NFP
I can't count how many of my clients I represented over the years walked away from the game completely on their own terms. I can't count them because there weren't any. The end of a career sneaks up on most players without warning or without transparent communications from their last team.
Stock Watch: Super Bowl Odds | NFP
Denver Broncos (Open: 50/1, Current: 10/1): Two words: Peyton Manning. The future Hall of Famer's signing in Denver sent the public scrambling, forcing the books to make a drastic adjustment. Just keep in mind that investing in the Broncos at this point in time is similar to dumping a bunch of cheese into facebook stock the day Zuckerberg's baby went public. We all know how that one turned out.
Community Picnic Brings Pause | DenverBroncos.com
Broncos players and cheerleaders spend time with those affected by the High Park fire.