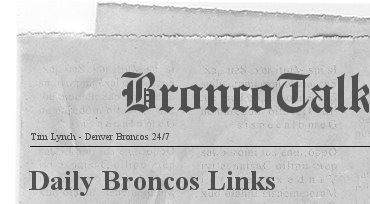 Be sure to follow me on Twitter for more Broncos updates throughout the day.
Denver Broncos News
DeMaurice Smith on importance of being a good sport | MMQB
Peter King is on vacation, so he's recruited some help filling in on Monday Morning Quarterback. This week, NFLPA Executive Director DeMaurice Smith takes the reins.
Ryan Clady likes Broncos' offense under Manning | NFL.com
Denver Broncos left tackle Ryan Clady will go from blocking for one of the NFL's most polarizing quarterbacks to protecting a future Hall of Famer's blind side.
Report: LaDainian Tomlinson didn't draw Broncos offer | NFL.com
LaDainian Tomlinson created a bit of a stir Saturday when he told a reporter he flirted with the idea of signing with the Denver Broncos.

Brian Dawkins at peace after retiring from Broncos, NFL | Denver Post
He has played football for most of his life, but there's more about life than football for Brian Dawkins.
John Elway's job title someday could include Denver Broncos owner | Denver Post
In a quarterback-crazy league, there is big pressure for Broncomania to live up to the hype. If Manning fails to win half his games for the Broncos, he will get booed in Denver, probably by some fan wearing a No. 15 jersey.
Ed McCaffrey, Valor Christian host Down syndrome football, cheer camp | Denver Post
Former Broncos wide receiver Ed McCaffrey hosted a star-studded football and cheerleading camp for individuals with Down syndrome on Saturday at Valor Christian High School.
Denver Broncos Blogs
Del Rio, Dawkins Help Children Dare to Play | DenverBroncos.com
Defensive Coordinator Jack Del Rio and former Bronco Brian Dawkins served as coaches during Saturday's Ed McCaffrey Dare to Play Football Camp. The Denver Broncos Cheerleaders also hosted the Dare to Cheer Camp.
Denver Broncos Would Never Have Taken LaDanian Tomlinson | Yahoo! Sports
I love LaDanian Tomlinson. The man won me a fantasy football title back in 2006 when he broke the single-season touchdown record. I feel privieged that I was able to watch one of the greatest running backs of all time.
Denver Broncos and the Fantasy Six Pack | Yahoo! Sports
When the Denver Broncos dropped a guaranteed $18 million dollars in the lap of Peyton Manning (part of his five year, $96 million deal ) you knew they were serious about making fans forget about Tebowmania.
Thomas hopes to pay big dividends | ESPN.com
Demaryius Thomas just doesn't want to blow it. He knows he has been granted the biggest gift of his football life. He must cash in on playing with Peyton Manning.
Joel Dreessen: Colorado Kid Finds Home In Dove Valley | Predominantly Orange
Many NFL players have an intriguing story concerning their journey from the days of high school football until they make it big as a professional. Denver Broncos tight end Joel Dreessen is no different, but the actual road from his humble beginnings to Dove Valley is a short one. In fact, if you have time, you can drive it yourself in about an hour and a half.
Denver Broncos Videos
Daring To Be Great | DenverBroncos.com
Ed McCaffrey and the Global Down Syndrome Foundation host it's third annual Dare to Play Football and Dare to Cheer camps in Denver.