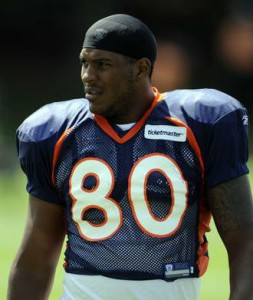 This offseason, we're going to do a Speak Up series looking at each position (o-line, d-line, etc.).  Today, we're looking at the tight ends.
We want to know who you think should be the main tight ends in Denver this season. Â Who should be No. 1, No. 2 and No. 3?
Returning: Â Virgil Green, Cornelius Ingram and Julius Thomas.
Acquired: Â Joel Dreessen, Jacob Tamme and Anthony Miller.
During minicamp, Dreessen and Tamme have appeared to be the Co-No. 1 tight ends, with Green, Miller and Ingram following in behind (Thomas is recovering from an injury). Â Dreessen and Tamme will presumably be the top two tight ends, but who will be the third?
The Broncos will likely keep three-to-four tight ends, meaning Green, Thomas, Miller and Ingram will be fighting for two spots. Â Who do you think should make the team?
Dish out your thoughts in the comments and vote in the poll after the jump!

Loading ...