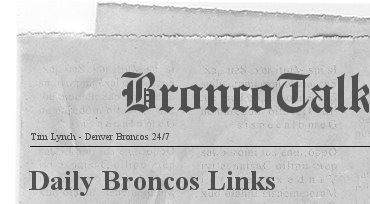 Be sure to follow me on Twitter for more Broncos updates throughout the day.
Denver Broncos News
KOA Q&A – Elway, Part Two | DenverBroncos.com
The Broncos recently finished their OTAs (organized team activities) and now they are off until training camp begins in late July. Leading up to training camp, we are bringing you a series of conversations 850 KOA has had with various Broncos personnel.
Potential of Broncos' Decker, Thomas stokes veteran WR | Denver Post
Back in Denver for his second go-round with the Broncos, Brandon Stokley leaned against the wall in a hallway inside Dove Valley during a recent interview as the conversation turned to Eric Decker and Demaryius Thomas.

Archie Mannng: Peyton Manning is a 'take charge' kind of guy | 9News.com
The glowing evaluations are still coming in on Peyton Manning's performance at Broncos mini-camp. Among those who've been keeping a close eye: Peyton's dad.
Denver Broncos Blogs
Page Begins New Chapter | DenverBroncos.com
As soon as the final selection of the 2012 NFL Draft was off the board, the Broncos front office was once again hard at work. The team began furiously working the phones to sign a handful of college free agents, in the end signing 13.
Broncos-slayer LaDainian Tomlinson retires with Chargers | First and Orange
There's this song they like to play at Qualcomm in San Diego whenever the Chargers score a touchdown, a catchy pop song called "(more bounce in) California" by some band called Soul Kid #1.
Plenty of surprises predicted for upcoming NFL season | Examiner.com
It is once again almost time for a new season of NFL football. It seems like not that long ago that Eli Manning and the New York Giants were holding the Lombardi Trophy high above their heads. The Houston Texans took the next step in their franchise by finally making the playoffs for the first time in team history.
Why the Denver Broncos Will Win the Super Bowl in 2012 | Bleacher Report
When Peyton Manning signed to play with the Denver Broncos, football changed. Tim Tebow, who generated tons of attention, was sent to the place where attention is all that matters (New York Jets). Denver had to change their offense, and thirteen teams had to change their approach to playing Denver.