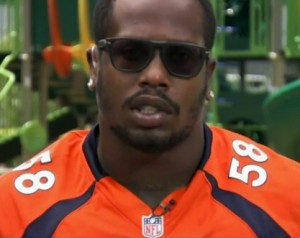 It's been over three months since the NFL and Nike unveiled new uniforms for every team in the NFL.  At the time, it seemed like a big hubbub about nothing, with only a few minor changes to the Denver Broncos uniform design.
In April, we noted that the shade of orange had changed and the (oft-criticized) Flywire collar design was a new look, as well. Â The size of the shoulder pad numbers appear to be considerably smaller, too.
EA Sports recently released an image of running back Willis McGahee seen in the Madden NFL 13 video game.  In the picture, McGahee's No. 23 on his shoulder pad looked much smaller than it appeared last season.  I thought this was just a funny angle or a glitch by EA and didn't give it a second thought.
When linebacker Von Miller appeared on the Jim Rome show Monday though, he talked about improving, Peyton Manning being Peyton Manning and his glasses (his swagtastic glasses). More interesting than any of that though was the fact that Miller was wearing his new jersey.
Like McGahee's, Miller's No. 58 shoulder pad number looked a lot smaller than it did in the old Reebok design. Â Good, bad or indifferent, it's a difference we just discovered.
Meanwhile, the jerseys — though extremely similar in design — are a lot different material-wise, according to several fans. Â I haven't gotten one of the new jerseys yet but I've heard they are good quality, a bit slimmer-fitting than the Reebok jerseys and more comfortable.
"Overall, I'm very happy with the new design," Stacy Johnson, the man behind this video said.  Johnson continued, "They actually look more like the old uniforms than I thought they would."
The shoulder pad numbers and side stripes on the fan replica jerseys ($99.95) appear to be larger than the numbers and stripes on the authentic jersey ($299.95).
Have you purchased one of the new jerseys?  If you have, tell us what you think!