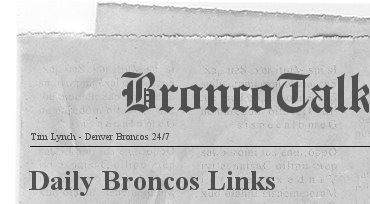 Be sure to follow me on Twitter for more Broncos updates throughout the day.
Analyzing Tomlinson's career, Saints' appeal, Banks' comeback | Peter King
Much news for what's normally a sleepy Monday in June — bounty appeals today in New York, for instance — but let's start the last Monday column before I take my summer break with some numbers from the amazing career of LaDainian Tomlinson, who will announce his retirement today in San Diego.
Former Broncos receivers Three Amigos revel in 25 years of fun, games | Denver Post
The line was long and lengthening. Many of the people waiting weren't born when the men signing autographs at the downtown Longmont Broncos Country Caravan stop wore orange uniforms. So there was time for the adults to explain and tell stories.

Paige: Old-timers agree Manning has Broncos looking at 10-win season | Denver Post
Peyton Manning bellowed a cipher of words and numbers punctuated by "hurry up, hurry up," and the football was snapped. The veteran quarterback dropped back five steps and flung a perfect 38-yard pass to Demaryius Thomas for a faux touchdown.
Klis: Peyton Manning's no-huddle offense could solve riddle of the Raiders | Denver Post
Peyton Manning doesn't have to throw for 5,000 yards in his first season with the Broncos. Although in today's NFL, 5,000 is the new 4,000. (John Elway, a quarterback of the long-ago 1980s and '90s, passed for 4,000 yards once in his 16-year career.)
Jack and Luke Del Rio make football a father-son business | Denver Post
Jack Del Rio slipped out of the Minnesota Vikings' team hotel just before bed check and drove to a hospital in suburban Minneapolis to await the birth of his only son, Luke.
Broncos in good hands with Peyton, ex-receiver says | Las Vegas Review
Sunday would have been a good day for Matt Cain to pitch another perfect game. As I write this, Google claims only two Peyton Manning stories have been written. And only one in the past hour.
Notebook: Back to 'Orange Crush' | DenverBroncos.com
Linebacker Joe Mays said the defense is hard at work, pushing to become a top-five defense in the league.
Miller Named Colorado Athlete of the Year | DenverBroncos.com
Last year's Defensive Rookie of the Year received another accolade on Friday night. The Denver Athletic Club named him the 2012 Athlete of the Year in the state of Colorado.
Denver Broncos A Fit For Colt McCoy? | NFL Mocks
With Colt McCoy on the trade/chopping block, ideas are coming about as to where he could potentially land. I can probably think of a few better places than Denver for the 2010 third round pick, buy why not?
Mile High Monday: Father's Day Brings Back Great Broncos Memories | Predominantly Orange
For those of us lucky enough to have great relationships with our parents, we have certain memories with them that will stick with us for a lifetime. When Father's Day rolls around every year as it did yesterday, it's fun to reminisce about some of those memories and appreciate the people you made them with.