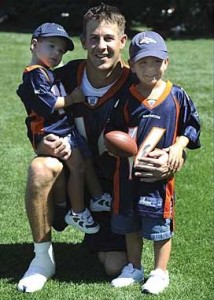 Happy Father's Day to all the dads out there in Broncos Country.  With a large chunk of Western land uninhabited by any NFL teams, Broncos Country extends a lot farther than you might think, so that's wishing a happy day to a lot of fathers.
In fact, Broncos Country (or Nation, depending on who you ask) extends beyond the state of Colorado and even the United States. Â This site alone hosts readers from Brazil, the United Kingdom and Australia.
"I'm a British Broncos fan and the only game that I've been to at Mile High was with my dad (along with the rest of my family and in-laws) when all of my family and I flew out to Colorado to spend Christmas 2009 with my wife's parents," Chris Sergeant wrote on our Facebook page.
"Shortly before the visit we'd discovered that my wife was pregnant so technically I was a dad at that game too. Â The game itself was a narrow 19-20 loss to the Raiders which sucked of course."
"My Dad didn't really follow the game (more of a rugby and golf fan) but I was a fan of (American) football already and have been an avid Broncos follower ever since. My daughter is now about to turn two and she's getting a new orange Von Miller jersey for her birthday next month!"
Hearing Chris' story of attending a game with his father and now passing down his passion for the Broncos to his daughter is what it's all about — leading younger generations by example and mentoring and teaching them everything there is to know about life (including the fact that the Denver Broncos are the greatest team in football).  My passion for football was genetically inherited from my dad, and he took me to my first Broncos game, increasing my passion for the team.
More importantly though, in addition to introducing me to football and the Broncos, my dad taught me all there is to know about life and has we've made some incredible memories along the way, as has Myles McKeagan.
"I was a kid and my dad and I got to Mile High Stadium early and he fought to the front with me and we got Floyd Little's autograph and still have it to this day," @hibbidybibbidy Tweeted us Saturday evening.
That's a memory of a great time with his dad that Myles will remember for the rest of his life. Â If you are a father, be sure to create special memories with your children.
In twenty years, you may not remember fighting through a crowd at training camp so your son (or daughter) could get a player's autograph. Â But they probably will.
Happy Father's Day to all. Â Now go be a great dad!