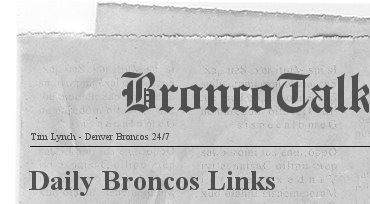 Be sure to follow me on Twitter for more Broncos updates throughout the day.
BTV Minicamp Report | DenverBroncos.com
Derek Wolfe rejoins the Broncos and the offense continues to establish its identity.
Peyton quickly working off the rust as Broncos kick off their minicamp| CBS Sports
It is a question the football world wants to have answered: Is Peyton Manning the same Peyton Manning? The answer is no.
Broncos' Derek Wolfe "expects to contribute" as a rookie | Denver Post
There is an earnest quality to Derek Wolfe that the Broncos hope never dissolves. He is a conscientious sort, dedicated to his craft. He wants to do well. It bothers him that he doesn't know the playbook as well as he should. But with all due respect to Wolfe and his top-grade characteristics, he is a defensive tackle.
Peyton Manning's presence has changed everything for Denver Broncos | Sporting News
In 10 years in the NFL, Broncos running back Willis McGahee thought he had figured out what was and was not important.

Guest at Denver Broncos minicamp very familiar with Peyton Manning | Denver Post
For information, there is Google. For information on Peyton Manning, there is Tom Moore.
Broncos' run game still a "top priority," Peyton Manning says | Denver Post
For all the hoopla surrounding the addition of Peyton Manning's arm to the Broncos, it might be easy to forget that they led the NFL in rushing last season. At 164.5 yards per game, Denver topped the league.
Broncos rookie LB Danny Trevathan works with starters at minicamp | Denver Post
Sixth-round pick Danny Trevathan was the first Broncos rookie to find work with the starters in the mandatory minicamp that started Tuesday.
Peyton Manning remains a work in progress physically | NFL.com
With at least four neck surgeries in his rearview mirror, Manning isn't ignoring the reality he's not all the way back.
Broncos Aim for 3D Offense | DenverBroncos.com
Quarterback Peyton Manning said the Broncos want to have a three-dimensional offense, with threats in the running game, passing game and play-action game.
Wolfe Leans on Veterans on Day One | DenverBroncos.com
The University of Cincinnati had a relatively late graduation this year — June 9. What does that have to do with the Broncos?
Broncos over/under drops to 8.5 wins | First and Orange
The latest NFL odds from the Las Vegas Hotel & Casino don't quite line up. The San Diego Chargers over/under win total for the 2012 season remains at 9 while the Broncos has slipped to 8 1/2.
Cast of thousands at Manning's passing camp | First and Orange
The 16th annual Manning Passing Academy will be held July 12-15 at Nicholls State in Thibodaux, La., which is about an hour, 15-minute drive from the Manning's hometown in New Orleans. The camp is for high school quarterbacks, receivers, tight ends and running backs.
Notes from an OTA: June 12 | MaxDenver.com
Cornerback Tracy Porter and linebacker Danny Trevathan each intercepted Peyton Manning on Tuesday, although in both cases the pickoffs weren't direct. Porter's theft came off a tipped pass, and Trevathan's interception came after Porter got a hand on the football — instead of intended receiver Jacob Tamme.
Defense: Playbook Tweet Much Ado About Nothing | MaxDenver.com
Four days after Williams tweeted a picture including six diagrams from the team's iPad-based playbook, he was back at practice with teammates who had largely shrugged off the tempest that ensued when he shared the snapshot, then deleted it.
Scenes from a Practice: June 12 | MaxDenver.com
It might seem as though the Broncos' work has only just begun, but this week's minicamp represents the end of their organized offseason drills at Dove Valley.
Roger Goodell has the Power to Stiff Arm Drunk NFL Players | Mile High Report
The latest topic of discussion around the NFL has to do with whether or not the National Football League should have stiffer penalties against players who are convicted of a DUI or Driving Under the Influence of Alcohol. If you read Horse Tracks this morning, you might have noticed an article informing us that the Players Union (NFLPA) is against having more stringent consequences added to any player in violation.
Minicamp Day 1: Manning | DenverBroncos.com
Quarterback Peyton Manning talks about Tuesday's first minicamp practice.
Minicamp Day 1: Fox | DenverBroncos.com
Head Coach John Fox talks about the what he expects from the team's final camp of the offseason program.
Who has more to prove? | NFL.com
Does Colts rookie QB Andrew Luck have more to prove filling Peyton Manning's shoes than Manning himself? Warren Sapp and Heath Evans have an entertaining debate.
Manning: 'It takes time' | NFL.com
Michelle Beisner analyzes how Broncos QB Peyton Manning is settling in with his new team.