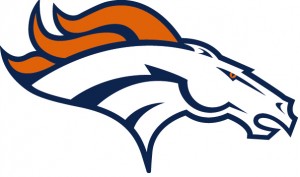 The Denver Broncos began their first session of a four-day offseason minicamp on Tuesday. Â Here are some quick hits on today's events:
Participation report — Only three players — kicker Matt Prater (disgruntled), guard Chris Kuper (ankle) and tight end Julius Thomas (ankle) — did not participate in practice today.  In Prater's absence, the Broncos tried out kickoff specialist Adi Kunalic.
Injury report — Â Wide receiver Demaryius Thomas provided a fright when he appeared to injury one of his fingers during practice. Â Fortunately, it was only a minor jam.
National media attention — Â Among the big-time media outlets covering the Broncos' practice today were USA Today, ESPN and NFL Network. Â An Air Force crew was also there, presumably to do a piece on defensive lineman Ben Garland. Â NBC was also on hand, taking photos and conducting interviews for the team's Sunday Night Football season opener on September 9th, against the Steelers.
Rookie roundup —  Rookie quarterback Brock Osweiler and running back Ronnie Hillman both attended practice, despite the fact that both players are currently negotiating contracts with the team.  The team is reportedly having "back-and-forth" negotiations with Hillman regarding his deal.  Efforts to contact Hillman's agent, Eugene Parker, were unsuccessful.  Defenisve tackle Derek Wolfe was also present – practicing with the full team for the first time this offseason after not being allowed to participate in OTAs due to NFL graduation rules.
Photo album — Â Check out a photo album from today's practice on BroncoTalk's Facebook page.
Miscellaneous notes –  Peyton Manning's former offensive coordinator and confidant Tom Moore attended Denver's practice session Tuesday…  Coach John Fox isn't sweating over D.J. Williams' playbook tweet… Second-year safety Quinton Carter was practicing with the first team defense across from Mike Adams in the back-end of Denver's secondary.  During OTAs, Rahim Moore was starting above Carter.  The two young safeties will compete for a starting gig this summer… Manning was picked off by cornerback Tracy Porter during practice, undoubtedly bringing back memories of this play for both players.
Check back tomorrow for more notes and news on Denver's 2012 minicamp.