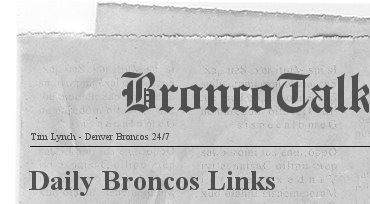 Be sure to follow me on Twitter for more Broncos updates throughout the day.
Mays Could Be Biggest Beneficiary of Larger DTs | MaxDenver.com
The Broncos aren't getting bigger at the defensive tackle spots for the sake of adding bulk. They're getting bigger to make life easier for the players around them — the ends to their flanks and the linebackers behind them.
Jack Del Rio making big impression on Broncos' defense | Denver Post
Were there referees here at Dove Valley for Broncos' organized team activities, the defense might get flagged for 12 men on the field.

Manning throws out Broncos' comfort zone | Denver Post
On any given Sunday, catching touchdown passes from Peyton Manning is the coolest job in America. But the other 349 days a year? Working for the NFL's most demanding quarterback might be a more thankless task than being Donald Trump's apprentice. Or comb.
Broncos QB Caleb Hanie one play away from replacing Peyton Manning | Denver Post
Peyton Manning this, Peyton Manning that. All people in the Denver-area break rooms talk about these days is Peyton Manning.
Broncos linebacker Wesley Woodyard finds an opportunity | Denver Post
Wesley Woodyard made only 16 starts his first four years with the Broncos. When his first contract expired after last season, it would have made sense for Woodyard to seek a team where he could be a full-time starter.
Broncos' Steven Johnson aims to overcome odds, undrafted status | Denver Post
Every year I try to research and evaluate as many prospects as I can in the months leading up to the NFL draft.
Wesley Woodyard has sights set on starting | SI.com
Wesley Woodyard is gearing up for a bigger role than ever with the Denver Broncos.
Broncos linebackers in awe of Von Miller's natural ability | First and Orange
When Mays is on the field with Miller, or in the film room watching tape of Miller, Mays said he can't help but be amazed at what the 2011 first-round draft pick can do.
The deep ball won't determine success of Broncos quarterback Peyton Manning | First and Orange
Many offensive coaches around the league believe the 50-yards-in-the-air-deep toss is a relic in today's NFL, where coverage schemes are built on taking it away. Often the big plays are the result of smart decisions made by quarterbacks that result in huge catch-and-run efforts from their receivers.
Denver Broncos Can Do Without Ty Warren | Yahoo! Sports
As the Denver Broncos are installing a new playbook and getting all the new players and coaches comfortable with each other on the team, one potential starter has yet to join the party. Defensive tackle Ty Warren has yet to show up to OTA's in response to the Broncos efforts to get him to agree to a pay cut. It wouldn't surprise me if Warren never plays for the Broncos, and I hope that the Broncos figure this out sooner than later.
OTAs Day Eight: Mays | DenverBroncos.com
Linebacker Joe Mays talks about the expectations he's putting on his position group and what he's working on during OTAs.
OTAs Day Eight: Woodyard | DenverBroncos.com
Linebacker Wesley Woodyard talks about what he's learning from Jack Del Rio and what he's working on during OTAs.