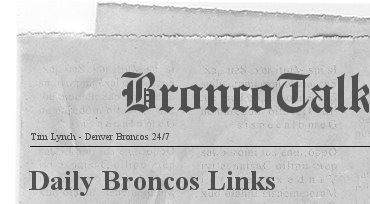 Be sure to follow me on Twitter for more Broncos updates throughout the day.
Next Part Of The Playbook | DenverBroncos.com (Video)
Peyton Manning and the offense spent Monday going through longer routes, throwing deeper balls and testing the team's secondary.
Peyton Manning shows he can still throw the deep ball | Denver Post
Broncos quarterback Peyton Manning answered lingering questions about his post-neck surgery arm strength as he routinely hurled the ball far down the field during Monday's organized team activity.
Notes from an OTA: June 4 | MaxDenver.com
Brandon Stokley's deep catch from Peyton Manning was just one highlight from a relatively eventful OTA session at Broncos headquarters.

Peyton Manning's friend set for neck surgery at Craig Hospital | Denver Post
With field vision that's the stuff of NFL legend, Peyton Manning spotted the man in the wheelchair from 50 yards away. Instantly, the star quarterback's smile was as big as if he had spied a receiver wide open for a touchdown.
Broncos' Brandon Stokley's spectacular catch grabs attention in OTAs | Denver Post
At 35, Brandon Stokley is no kid, and this is no ordinary OTA set of practices. In each of the past two seasons, coaches throughout the NFL tried to tell Stokley he was done as a player.
Peyton Manning's passing ability of no reservation to Broncos | Denver Post
This week, the Broncos opened their third of three sets of full-team, on-field organized team activities (OTAs) and will conclude their full-team practices with next week's three-day mandatory minicamp. So they've now seen Manning throw plenty in a variety of situations.
Broncos' Peyton Manning airs out deep passes during practice | Denver Post
Peyton Manning is finally getting to know just what Broncomania is all about. Under the gaze of another large herd of media for today's organized team activity, every throw by Manning was dutifully chronicled in notebooks.
Broncos coach John Fox expects "full participation" at camp next week | Denver Post
The Broncos opened their third week of organized team activities (OTAs) Monday, with defensive tackle Ty Warren and kicker Matt Prater still having not appeared in the team's Dove Valley complex.
Denver Bronco's Peyton Manning lets it loose in practice | Indy Star
Peyton Manning is the only four-time MVP in NFL history, he has hoisted a Super Bowl trophy and hosted "Saturday Night Live."
Manning Airing It Out | DenverBroncos.com
Quarterback Peyton Manning and his receivers continue to build chemistry throughout OTAs, as was evidenced by an abundance of deep completions on Monday.
Situational Football | DenverBroncos.com
Quarterback Peyton Manning and the Broncos worked from the no-huddle offense in the seventh day of OTAs.
Peyton Manning no longer a jinx for the Rockies | First and Orange
Broncos wide receiver Brandon Stokley had been giving his buddy Manning grief that somehow Manning was bad luck for the Colorado Rockies because Manning had yet to see the Rockies win at Coors Field. Manning finally got to see a win Sunday, watching Colorado's 3-2 win against the Dodgers from a suite.
Broncos' Tennessee alums get a special visitor at practice | First and Orange
The special guest was dressed all in orange as he sat on the patio and watched Broncos practice Monday morning.
Scenes from a Practice: June 4 | MaxDenver.com
An assortment of freeze-frames from the Broncos' seventh organized team activity session of 2012.
Broncos, Manning Dig the Long Ball | MaxDenver.com
If there were reins on Peyton Manning, they were removed Monday. After working on short-to-intermediate-range passes during the previous two organized team activities that were open to media viewing, Manning and the Denver offense focused on long passing during Monday's 95-minute session.
The Greatest Denver Bronco Team: Tight End | Mile High Report
Riley Odoms was drafted in the first round fifth overall in 1972. Odoms was the second highest drafted Tight End ever taken (tied with Mike Ditka and Billy Cannon was number one overall in 1960. Odoms was a starter on the Broncos Super Bowl XII team and never averaged less than 10 yards per catch in a season.
Scouting the Broncos: 2012 Linebackers | IAOFM
The Broncos defense made great strides last season beyond their 2010 performance, improving in points allowed, from 32nd to 24th, and in yards against, from 32nd to 20th.
OTAs Day Seven: Fox | DenverBroncos.com
Head Coach John Fox talks about how the offense is progressing and what he's seen so far during OTAs.
OTAs Day Seven: Manning | DenverBroncos.com
Peyton Manning talks about throwing the deep ball and running through situational plays during Monday's OTA session.