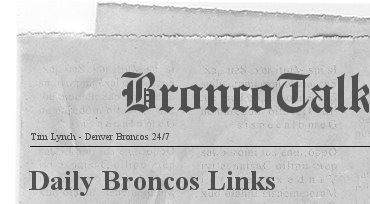 Be sure to follow me on Twitter for more Broncos updates throughout the day.
OTAs Day Five: Del Rio | DenverBroncos.com
Defensive coordinator Jack Del Rio talks about why he wants size on the line, the competition in the secondary and his history with John Fox.
Jack Del Rio has a keeper in Derek Wolfe | Denver Post
When it came time for the Broncos to choose from an assortment of quality defensive tackles in the draft, somebody had to speak first.
Broncos will monitor how often Manning passes in practice | Denver Post
Peyton Manning is coming off a season's worth of missed games and has four neck surgeries in his medical history. With all that in mind, the Broncos have their quarterback on a pitch count of sorts as he learns the team's playbook.
Goddell believes harsh penalties will end bounties in the league | Denver Post
Commissioner Roger Goodell said he is confident bounty hunting will no longer be an issue in the NFL because of the severe penalties handed out in the wake of the New Orleans Saints scandal, adding that the actions taken by the league "speak very loudly."
Broncos kicker Matt Prater remains a "franchise player" for this season | Denver Post
Prater has not participated in the Broncos' offseason workouts, but he will be under contract for the coming season. The issue for both sides is what happens after 2012.
Mike McCoy says Manning, Broncos offense responded to poor practice | Denver Post
Broncos offensive coordinator Mike McCoy said his offense took Wednesday's subpar practice as a "challenge" and responded well when they returned to the field today.
Broncos aren't holding back QB Manning on field | SI.com
The Denver Broncos aren't holding back when it comes to Peyton Manning. Offensive coordinator Mike McCoy said Thursday he isn't making any special allowances for the four-time MVP who's returning from a nerve injury that caused weakness in his throwing arm, forced him to sit out last season and led to his release from the Indianapolis Colts.
John Elway content with current role as vice president of Broncos | First and Orange
I was hanging out in John Elway's office today. I was interviewing the Broncos' football operations boss for a Sunday story. We brought up the column today by the Denver Post's Woody Paige, who mentioned Elway ultimately would like to own the Broncos.
Could Hillman challenge McGahee to be Broncos' top back in 2012? | CBS Sports
The addition of Peyton Manning (and subtraction of Tim Tebow) has understandably generated most of the headlines for the Denver Broncos during this offseason.
As Peyton Manning Continues Work for Broncos, Fallout Continues from His Free Agency Tour | Yahoo Sports
The Denver Broncos returned to their off-season program on Wednesday and Peyton Manning once again started making news. While the local Denver media were discussing how he put in extra practice time with wide receiver Eric Decker, national media latched onto a story concerning the San Francisco 49ers' pursuit of Manning during his short stint on the free agency market.
Denver Broncos Team Report | USA Today
Like the mountains that overshadow Denver, there will be peaks and valleys as the Broncos' returning offensive players and quarterback Peyton Manning adjust. Their organized team activities began May 21 with the former; nine days later, they continued with the latter.
At DT, Bigger Is Better | MaxDenver.com
Jack Del Rio wants massive, space-filling defensive tackles — and he knows some of the answers will have to come from what he inherited.
OTAs Day Five: McCoy | DenverBroncos.com
Offensive coordinator Mike McCoy talks about Peyton Manning's progression and how the offense is coming together.