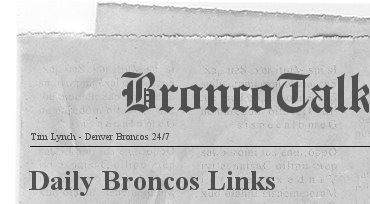 Be sure to follow me on Twitter for more Broncos updates throughout the day.
Broncos: How about defense? | Colorado Springs Independent
His name is Joe (he doesn't ever want me to use his last name), and he's been a devoted Denver Broncos fan since the 1970s, back to the days of Randy Gradishar, Lyle Alzado and Tom Jackson, Joe's favorites from that era.
Manning commands respect, and Broncos desperately need some | Indy Star
Nothing against 80-yard touchdown passes or the Bible, but Broncos Country is a better place without Tim Tebow.

NFL is absolutely brutal, and that's why we love it | Denver Post
Kill the violence and the NFL would slowly die. Football freaked out over the tragic suicide of retired linebacker Junior Seau. The overreaction has begun, with everybody from former MVP Kurt Warner to Tom Brady's father lamenting the dangers of the game.
Broncos defense looks to gel amid big changes once again | Denver Post
"The good teams do the big things and the little things well," Broncos cornerback Champ Bailey said. "They know what's expected. They can line up, look at each other and just know what needs to happen; nobody has to say anything. You just know. That's what we're doing now. We're building that trust in what we do."
Broncos didn't select "reaches" in NFL draft | Denver Post
It is a big reason the team dealt its way out of the first round with two trades, because Elway and the team's personnel staff didn't have a player with a first-round grade remaining on the board as their pick approached at No. 25.
Saccomano Honored for 35 Years | DenverBroncos.com
Vice President of Corporate Communications Jim Saccomano has been with the Broncos for 35 years. On Tuesday, he was honored for his tenure.
Broncos Add Defensive Quality Control Coach | DenverBroncos.com
The Broncos had an opening at defensive quality control coach after Wayne Nunnely retired and Jay Rodgers was promoted to defensive line coach.
Peyton's No. 18 is No. 1; Tebow's No. 15 is No. 2 | First and Orange
It should surprise no one that Peyton Manning's new No. 18 Broncos' jersey and Tim Tebow's new No. 15 Jets jersey were the NFL's top two selling jerseys in the months of April and May.