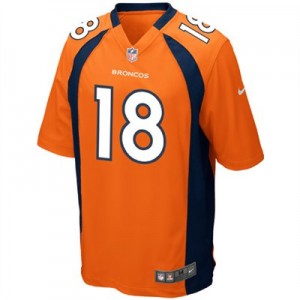 Out with the old, in with the new, right? Â The NFL's arguably two most popular players are both playing for new teams this season, and their jerseys are NFLShop.com's top-sellers.
That's right, Peyton Manning's No. 18 Denver Broncos jersey is the best-selling jersey in the NFL, followed closely by Tim Tebow's No. 15 New York Jets jersey. Â From April 1st through May 28th, no jersey was more popular than Manning's orange jersey seen to the right.
The top-ten selling jerseys in the NFL, per the league's public relations department, can be seen after the jump.  
1. Â Peyton Manning
2. Â Tim Tebow
3. Â Robert Griffin III
4. Â Andrew Luck
5. Â Eli Manning
6. Â Aaron Rodgers
7. Â Patrick Willis
8. Â Tom Brady
9. Â Cam Newton
10. Â Troy Polamalu
Manning's officially licensed jersey—a hot buy—can be purchased through the team's official online store for $99.95.  If you haven't gotten your dad a Father's Day gift and are willing to cough up an easy hundred bucks, consider your gift found.