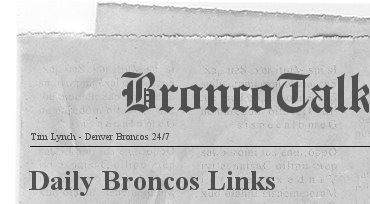 Be sure to follow me on Twitter for more Broncos updates throughout the day.
Denver's Dynamic Duo | DenverBroncos.com
When Von Miller first joined the Broncos following the 2011 NFL Draft, he said he wanted to play Robin to Elvis Dumervil's Batman. The Broncos' outside pass rushers took down their share of bad guys last year in the form of opposing quarterbacks, combining for 21 sacks on the season.
Broncos' traffic jam at cornerback made Vaughn expendable | DP
Vaughn's departure may be felt on special teams before it's noticed in the secondary. He would have been one of the Broncos' top kickoff returners this year.
Learning From Manning | DenverBroncos.com
The Broncos' wide receivers are adjusting to a new quarterback this offseason – and learning a lot in the process.
Tripucka's sports dream runs in the family | STL Today
Travis Tripucka wanted to play basketball. Specifically, he wanted to play basketball at the University of Notre Dame, just like his dad.
Bannan 'Looking Forward to Winning' | DenverBroncos.com
Justin Bannan is back as a Bronco, and he couldn't be happier. "It feels great," he said. "It's good to get back out there. It's weird, it's kind of like déjà vu to be back out there on the practice field running around. I couldn't be more excited and driven to have a great year."
Chargers Are Division's Forgotten Challengers | SB Nation
The Kansas City Chiefs and Denver Broncos appear to be the front runners in the 2012 AFC West division race but the San Diego Chargers still look to be a dangerous team.
Little Known Facts: Denver "The Premier Comeback Team" | Mile High Report
One of the things you can do, if you are interested in the Broncos early history is peruse the Denver Broncos Media Guides — they were called "Press Guides" during the Broncos' early years.
The Greatest Denver Bronco Team: Wide Receiver | Mile High Report
It is now time to find out who will be catching passes. Wide Receiver is a hard player to judge and the top three receivers will be getting the nod to be on the squad. You need to vote for who you thought was the best and I will use that to reflect the votes of who was the best.
Nick Fairley: The DT the Broncos didn't draft | First and Orange
Entering the 2011 draft, the Broncos had a gaping need at defensive tackle yet with their No. 2 overall pick, they took strongside linebacker Von Miller. They also liked Alabama defensive tackle Marcell Dareus, but ultimately felt Miller was the more dynamic player because of his ability to rush the passer.