Posted Thu May 24th by Monty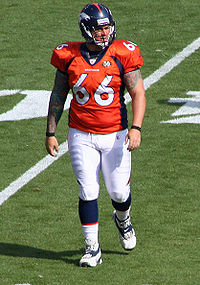 Name: Lonie Paxton
Pos: Long Snapper
Ht, Wt: 6'2″, 270
Age: 34
Exp: 12
College: Sacramento State
Lonie Paxton has been the Denver Broncos' long snapper for three seasons, and has been virtually invisible during that time. For a long snapper, that's the highest praise — if you've been noticed, it means you did something wrong.
2011 Analysis: One bad snap vs. the Patriots on an extra point, that I recall. Of course, I was there in person, the first home Broncos game I had ever attended as a fan, and I am a terrible jinx to the team, so it wasn't Paxton's fault at all. Paxton was excused from the Broncos' Divisional playoff game for personal reasons.
Contract Status: Signed through 2013 ($875,000 in 2012).
2012 Outlook: The Broncos have brought in competition for Paxton in the form of undrafted rookie Aaron Brewer. That's somewhat of an odd thing for a team to do; I don't recall the Broncos carrying two long snappers into camp, ever (though I could be wrong). Still, no matter how perfectly Paxton launches that football between his legs, if Brewer's spirals are just as spiral-y, the rookie might unseat the veteran by virtue of his lower pricetag alone.
("Unseat"… get it? It's funny because long snappers look like they sit in invisible chairs.)
As always, we invite you, the readers, to participate. Should the Broncos roll with the rookie at a much cheaper price, or is there no premium for a steady hand with the game on the line?

Loading ...
We hope you enjoy these posts as BroncoTalk continues to develop the first fan-powered Denver Broncos roster on the web.