Posted Wed May 23rd by Monty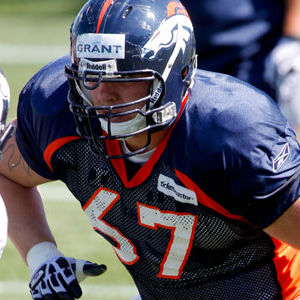 Name: Adam Grant
Pos: Tackle/Guard
Ht, Wt: 6'6″, 320
Age: 26
Exp: 1
College: Arizona
Adam Grant was the most prized of the Denver Broncos' undrafted rookies in 2011 heading into training camp… if you judge "prized-ness" by the signing bonus the Broncos initially dished out for the player (not the worst metric). Based on his junior and senior seasons at Arizona, you can hardly blame them — Grant earned second team All-Pac 10 honors at right tackle in 2010 before moving to left tackle his senior year and enjoying a "stellar season" on the offensive line's most vital position. Short arms and marginal athleticism, along with a series of knee and hand injuries early in his collegiate career, dropped his draft stock, but the Broncos brought him to camp with the hopes of grooming him into an NFL offensive lineman, at one position or another.
2011 Analysis: Grant spent most of training camp at tackle, but moved to left guard on the practice squad after being one of the team's roster cuts to reach the 53-man limit in September. The Broncos are said to be high on the former Wildcat.
Contract Status: Signed a future/reserve contract for 2012.
2012 Outlook: Roster bubble. Grant is a likely camp body, but his greatest strength is his versatility — being able to back up left tackle, right tackle, and left guard is a boon for his roster outlook. It's also worth noting that Grant is still eligible for the practice squad.
As always, we invite you, the readers, to participate. What are your thoughts on Grant in year two? Should he make the Broncos roster?

Loading ...
We hope you enjoy these posts as BroncoTalk continues to develop the first fan-powered Denver Broncos roster on the web.