Posted Tue May 22nd by Monty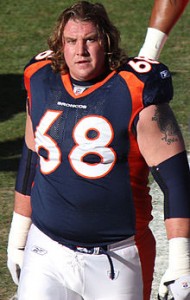 Name: Zane Beadles
Pos: Guard
Ht, Wt: 6'4″, 305
Age: 25
Exp: 3
College: Utah
Zane Beadles has started in 30 of 32 possible games in his NFL career — six games at right tackle, and the rest at left guard. A versatile, promising prospect drafted by the Denver Broncos in the second round of the 2010 NFL Draft, Beadles and C J.D. Walton formed the first rookie tandem to make their regular season debut as starters on the offensive line in franchise history.
2011 Analysis: After being named to The Sporting News' All-Rookie Team in 2010, 2011 was a step back for Beadles. Of course, there's the built-in excuse of the dramatic scheme change the Broncos underwent last year, but Beadles didn't really improve from Weeks 1-5 under Orton and the rest of the year behind Tebow. He struggled in both the run and pass game and was one of the lowest graded starting guards by ProFootballFocus.com in 2011.
Contract Status: Signed through 2013 ($490,000 in 2012).
2012 Outlook: Starting left guard. Beadles will compete with the likes of undrafted rookies Austin Wuebbels and Wayne Tribue, with fourth round pick Philip Blake also potentially pushing Beadles. Beadles has decent speed and is able to get his blocks to the next level, but a decent bull rush can cause him problems. He needs to bulk up and get stronger this offseason since there really isn't anyone ready to knock him out of his starting position.
As always, we invite you, the readers, to participate. Has Beadles left you wanting more, or are you still on board with this promising 2010 draft prospect?

Loading ...
We hope you enjoy these posts as BroncoTalk continues to develop the first fan-powered Denver Broncos roster on the web.